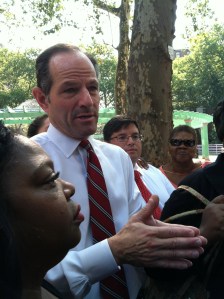 It's not just the mayor's race that's growing increasingly contentious.
At an Uptown campaign stop that was billed as former Gov. Eliot Spitzer's first policy proposal announcement, the comptroller candidate toured the Frederick Douglass NYCHA housing complex before briefly criticizing Mayor Bloomberg's controversial proposal to fingerprint all public housing residents–all the while mercilessly blasting his opponent.
"NYCHA public housing has not been dealt with fairly. It has not been managed well," Mr. Spitzer contended–a situation he would later blame on his rival, Manhattan Borough President Scott Stringer, because he supported extension of term limits in 2009. "This is the consequence of a third term that would not have happened if my opponent had not been part of a political establishment."
"A political establishment that was happy with the status quo," he continued. "A political establishment that didn't care about the residents, they cared about keeping their own jobs."
Stringer spokeswoman Audrey Gelman shot back with her own criticism not long after. "It's nice that 20 days before an election, Eliot Spitzer has woken up to the needs of public housing residents," she wrote in an email, telling Politicker that Mr. Spitzer's comment was "an absurd line of attack."
Ms. Gelman pointed to her candidate's record advocating on behalf of NYCHA issues, and indeed, as Mr. Spitzer walked into the senior living center of the housing complex, there was a noticeable picture of Mr. Stringer with an elderly resident on the wall.
For his part, Mr. Spitzer also touted his record on the topic. "It is a record of accomplishment," he said on route to his car after the event. "And on the issue of housing in particular, we'll get you the quote from my opponent, which even he said no governor in years–'decades' may have been his phrase–has dedicated as much effort, energy and resources to public housing." Spitzer spokesman Hari Sevugan followed up with a 2007 quote from Mr. Stringer claiming then-Gov. Spitzer had "proved a commitment to housing that has not been seen at the state level for years."
But Carmen Quinones, a district leader candidate allied with another pol present today, Thomas Lopez-Pierre, known for making racially charged remarks, had even harsher words for Mr. Stringer.
"We can tell you that Scott Stringer has not come in to Douglass," Ms. Quinones told Politicker, despite the photographic evidence to the contrary. "Scott is a racist, you can't tell me different. He shows it every time. He doesn't reach out to the Spanish and black community at all."
Overall, Mr. Spitzer, who is hoping to keep his strong lead among African-American voters in particular in the hotly-contested race, appeared to be warmly received, without any of the residents blasting him over the infamous prostitution scandal that ended his career five years ago.
That doesn't mean the scandal didn't pop up, however; after Ms. Quinones planted a wet, lipstick-etched kiss on his face, Mr. Spitzer quipped, "That's your lipstick, I don't want any questions about this."