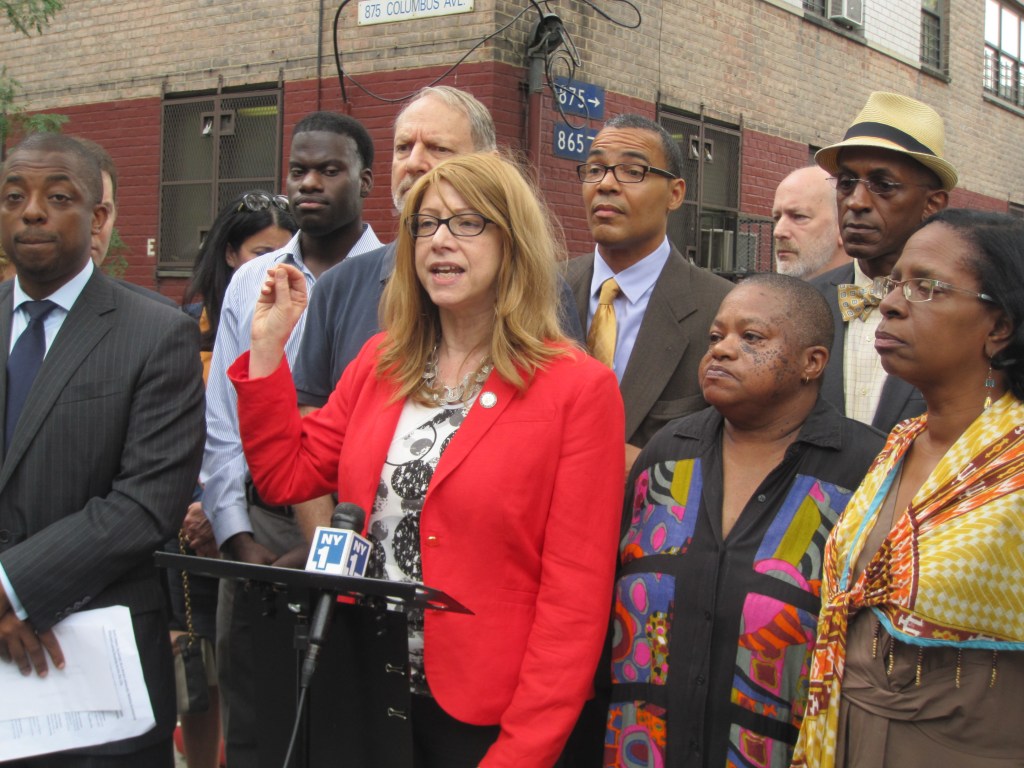 Comptroller candidate Scott Stringer's supporters gathered in front of a public housing complex this afternoon, railing against his opponent, Eliot Spitzer, for appearing at an event alongside a race-baiting candidate. They did this as the same controversial pol, Thomas Lopez-Pierre, stood beside them.
The end result was one of the wilder press conferences of this year's election cycle.
"We are gathered here at the Douglass Houses as a community to repudiate one of the things that Eliot Spitzer has done, which is he has embraced individuals who are hate mongers," said community activist Brian Benjamin at the event, which was crashed by Mr. Lopez-Pierre.
Mr. Lopez-Pierre, a Democratic district leader candidate, has been scorned by the political community for missives filled with racist, anti-Semitic and sexist language, including one directed at Mr. Benjamin calling him an "uncle Tom Nigger bitch," and many others directed City Council Candidate Mark Levine, attacking his Jewish heritage.
"This is the man that Eliot Spitzer chose to stand by yesterday at the presser," declared Mr. Levine, ironically standing in front of the same man.
The event quickly devolved into a screaming match as community members shouted back and forth at Mr. Lopez-Pierre and his co-district leader candidate, Carmen Quinones. At one point, a woman standing behind the podium accused Mr. Lopez-Pierre of inappropriately touching another woman in the group–"Stop feeling her! What's your problem?!" she shrieked. Later, Mr. Lopez-Pierre began jumping up and down and shouting, claiming the man in front of him had stepped on his foot.
"Somebody call the cops, please!" one of the supporters yelled.
Yesterday, Mr. Spitzer's campaign seemed unaware of Mr. Lopez-Pierre's history as he tagged along the former governor's visit to the Frederick Douglass Houses. He had previously stopped by Mr. Spitzer's first campaign appearance, in Union Square.
"The campaign didn't invite him, and Eliot didn't recognize him," Spitzer spokeswoman Lis Smith told the Daily News. "But Eliot obviously disagrees with his comments."
Ms. Smith followed up with a statement today: "To be clear, Scott Stringer attacked us all day yesterday for a random guy showing up at a press conference. Today, the same random guy showed up at his press conference. This is what happens when you make a non-issue the centerpiece of your campaign. When you have no record to run on, chaos and dysfunction will reign supreme."
Mr. Lopez-Pierre told Politicker today that he'd simply shown up at yesterday's event after hearing about it. "It was all over the place. Everyone knew Spitzer was doing it," he said, later noting, "He is not my best friend."
Mr. Lopez-Pierre says he is running with Ms. Quinones, who lives in the Douglass Houses and operates a consulting firm that Mr. Spitzer paid to help gather petitions to get on the ballot. She also helped organize Mr. Spitzer's public housing tour yesterday, where she slammed Mr. Stringer as racist and at one point gave Mr. Spitzer a kiss on the cheek.
But even Ms. Quinones distanced herself from Mr. Lopez-Pierre today, insisting the two weren't running as a team–despite the fact that her website appears to re-direct to his. "I am here to set the record straight!" she protested today, claiming that she had already denounced Mr. Lopez-Pierre and had tried unsuccessfully to get him to leave yesterday's event.
"The same way he came up here to this thing, that's how he showed up at Douglass," she said, further apologizing to Mr. Stringer for her accusations and insisting she does not believe he is racist.
For his part, Mr. Lopez-Pierre, who seemed to be having a jolly time as he waved to the press, smiled and shook his hands in the air, knocked Mr. Stringer as "a typical example of an Upper West Side white liberal" and didn't fault Mr. Spitzer for rejecting his endorsement.
"I encourage them to make whatever political statements are necessary in furtherance of the election of Eliot Spitzer," Mr. Lopez-Pierre told Politicker. "If Eliot Spitzer told me to endorse Scott Stringer and put my arm around him at an event, I would go do it. I'll play any role."
Additional reporting by Ross Barkan.