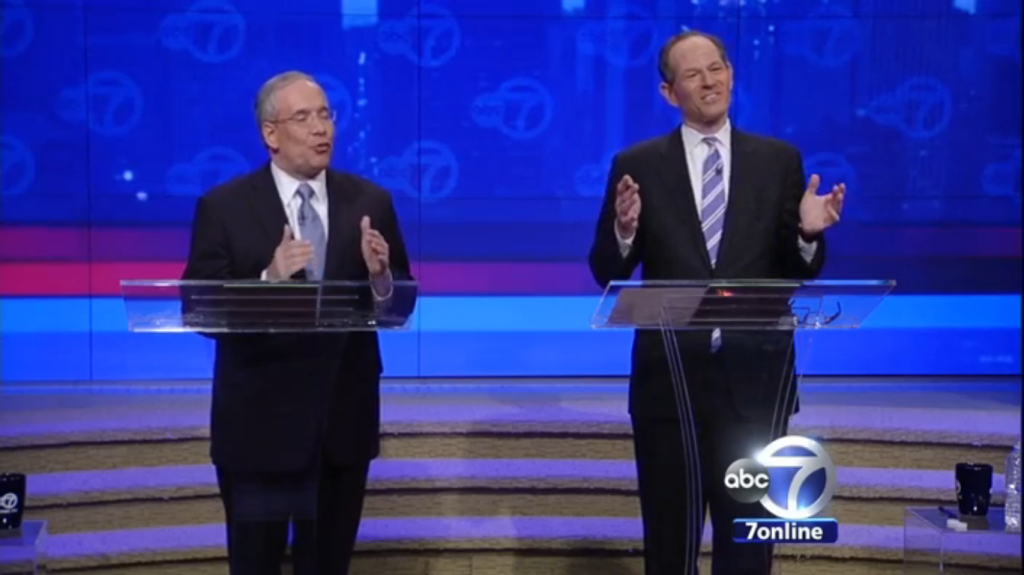 Ex-Gov. Eliot Spitzer resigned because of a prostitution scandal and Manhattan Borough President Scott Stringer wants to make darn sure everyone remembers it.
The two city comptroller candidates squared off this morning for the first time in a televised debate and it certainly wasn't a friendly occasion. Notably, Mr. Stringer tore into Mr. Spitzer for his infamous scandal again and again, referencing it in unrelated questions.
"The truth of the matter is that Eliot Spitzer represents the tier where he can escape prostitution and prosecution because he doesn't truly understand that you have to have one set of rules," Mr. Stringer said in response to an inquiry about whether he'd "stop and frisk" on Wall Street. "And Wall Street must be held accountable."
"My opponent still doesn't get it," Mr. Stringer declared early on in the discussion, which was hosted by WABC, the Daily News and Univision. "He didn't take responsibility, he evaded it. He didn't go to the voters and say, 'Listen, as your attorney general and governor, I was committing crimes for most of my terms.' What he did was resign because there was a federal investigation coming his way. They were going to charge him with prostitution and they were going to charge him with money laundering … I think this office requires trust."
He later accused Mr. Spitzer of standing on the side lines, ignoring pressing issues since his resignation. "Where were you for the past five years?" he demanded.
But Mr. Spitzer, whose campaign constantly put out "FACT CHECK" emails reminiscent of a presidential-level televised bout,  threw out plenty of his own barbs as well. He blasted the Manhattan borough president for opposing term limits, accusing him of being a  "go-along-to-get-along" pol, and sharply questioned whether Mr. Stringer's advocacy on behalf of public housing residents counts as a real record.
"Scott, I appreciate that you said I've been on the sidelines for five years. But to come back to your NYCHA example, where have you been with respect to NYCHA? It's corrupt and it's still–" Mr. Spitzer began.
"I have the best NYCHA record in the entire city and that's why–" Mr. Stringer interrupted.
"A report–" Mr. Spitzer said as he tried to edge back into the discussion.
"Every legislator who supports NYCHA housing supports me," Mr. Stringer continued. But Mr. Spitzer pressed on
"Wait a minute. Issuing a report does not manifest change. Change results when you use the levers of government to effectuate change. A report doesn't equal change. Twenty years in government–which is what you have, 12 in the Assembly, the most dysfunctional Assembly in the nation, eight as borough president–what indelible mark have you left on policy?" Mr. Spitzer then asked, while touting his own record.
"You resigned in disgrace," Mr. Stringer reminded him in response, calling his governorship "a colossal failure."