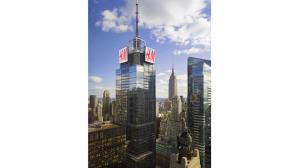 Here's an interesting fact about the "rendering" of H&M billboards that were released today as part of the news that 4 Times Square is now leasing out its skyspace for 70 x 70 ft. signs: No one at Condé Nast was apparently available to comment on The Wall Street Journal's story.

As the deal is being done through the building's management, the Durst Organization, and not Condé Nast, which will be moving next year anyway, maybe it's not that big of a deal. On the other hand, One World Trade Center (Conde's new HQ) is also co-owned by the Durst Organization, and who's to say they won't want to start sticking advertisements for racist headgear on that building, once it's completed? Especially since the Durst Organization seems to be as interested as having people look at their buildings specifically for the intent of selling it to the highest bidder.
"The views and the eyeballs on the skyline are going to be tremendous," Tom Bow, director of leasing at Durst told The Wall Street Journal. And what's more eye-catching than the tallest building in America?