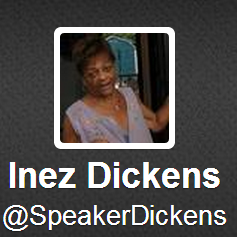 Councilwoman Inez Dickens is openly jockeying to be the next speaker of the City Council, but it appears one Twitter account has already beat her to the punch.
Ms. Dickens recently revamped her re-election website, embedding a Twitter account called "SpeakerDickens." The only problem is that the account is a parody feed that skewers Ms. Dickens.
With a Twitter bio that reads, "NYC Council Ethics Chair. Future Speaker. Tenant Advocate," the account links to unflattering stories about Ms. Dickens's role as a landlord in Harlem. According to one New York Post story the account mentions, Mr. Dickens has racked up more than $265,000 in unpaid code violations on four "decrepit" apartment buildings she co-owns.
"Dealing with all these needy tenants is stressful! Think I'll go for run, while uhhh Im the subway or whatever," the account tweeted earlier today, linking to a campaign photograph of Ms. Dickens posing near a subway station in jogging gear.
Ms. Dickens is facing a vigorous challenge from Harlem businessman and activist Vince Morgan. The account, which first tweeted on July 29 and now has 40 followers, has also retweeted favorable tweets about Mr. Morgan. But the Morgan campaign denied it had any role in setting up the account.
"I don't think her issue is a Twitter account or website," Morgan spokeswoman Donnette Dunbar told Politicker. "I think that her issue has more to do with a lack of accountability to her constituents. She has been put on record victimizing people who live in her apartments."
Update (1:11 p.m.): The Dickens campaign said their website was hacked and will be updating it shortly.