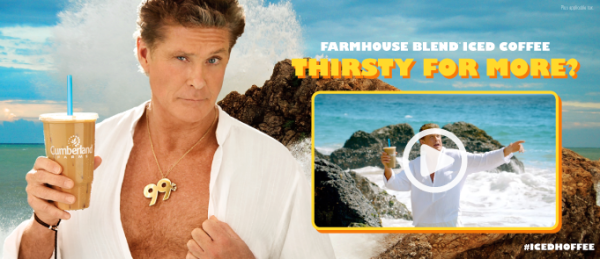 A convenience store clerk in Shelton, Connecticut, was severely hurt on Tuesday after trying to stop a man from stealing two posters featuring the likeness of David Hasselhoff.
The clerk, who was not named by police, noticed a thief prying two Cumberland Farms "iced Hoffee" advertisements from a pole, and pursued him; he was caught and dragged by the culprit's SUV, and is now in the hospital in critical condition.
The Cumberland Farms-Hoff signage is apparently weirdly popular, as more than 550 of them have gone missing since the Baywatch and Knight Rider star began hawking their beverage.
The Hoff responded to the incident yesterday on Twitter. "I am shocked& truly saddened about the Cumberland farms store clerk tragedy," he wrote. "My heartfelt thoughts and prayers are with him and his family!"
A 19-year-old has admitted to being the driver of the SUV, but no arrests have yet been made. Police have said that two other people were involved with the theft and that the signs have been recovered.
Here's the original advertisement:
[youtube=http://www.youtube.com/watch?v=vwcXwAyt40U&w=560&h=315]