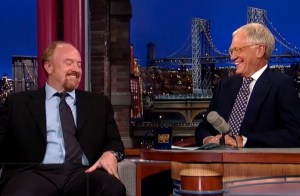 One of the greatest indignities in the world, we imagine, is having your corpse used as the punchline in a bon mot for a celebrity on a late night show. But that didn't deter Louis C.K.'s on Tuesday night, when he told David Letterman about his discovery of a dead body while boating on the East River earlier this summer. We know Louis traffics in dark comedy, but this is definitely one of those anecdotes you keep between you, the NYPD and your therapist, not share with millions of Americans watching at home.
Also, what?

[youtube=http://www.youtube.com/watch?v=lCKW88ttAWA&w=420&h=315]
"I called the coastguard and I said 'I got the dead guy right here!' said the comedian. "I'd never seen a dead guy. It was creepy and weird and I felt embarrassed for him a little bit."
"I thought about it and this was a person, this was a life, a story, and he's just a floater now. I felt all kinds of things."
Of course, if he really felt embarrassed maybe he wouldn't have mentioned the incident on a national television show, putting it on par with the time he got a phone call from Andrew Dice Clay.