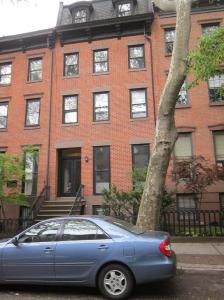 Theater, film and magazine writing aren't the most lucrative fields (at least, not for the vast majority of their practitioners), but Will Frears and Amy Larocca have found a way to make it work for them: the creatively-inclined couple just picked up a Cobble Hill townhouse for $3.25 million, according to city records.
The 20-foot-wide home at 289 Clinton Street doesn't look to be in the best shape—it was an estate sale, with the house belonging to the late Annette Nolan—which could explain how the couple managed to snag it for a quarter million less than its $3.5 million ask.
With 4,200 square feet spread over five levels, there's a lot for Ms. Larocca, fashion director at New York magazine, and Mr. Frears, a director whose last job—so far as we can tell—was a Stephen King adaptation at a theater outside of Philadelphia, to play around with. But they'll have their work cut out for them: with a Pepto-Bismol-themed paint job and only two bathrooms (no half-baths), the townhouse is in desperate need of some tender love and care.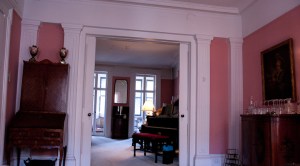 The listing photos do the house no favors—but it sat on the market for only two months, listed with attorney Jason Moore, before falling into the hands of Mr. Frears and Ms. Larocca, who were represented by a Douglas Elliman broker—but we do spot a clawfoot tub in one of the bathrooms and some original-looking moldings and pilasters on the lower levels.
The listing boats "five to six" bedrooms, but only in the loosest definition of the word "bedroom"—three of them measure just 6 feet by 10 feet, barely enough room for a bed, dresser and night stand. The top floor, though—currently divided into five different storage areas—has some extra bedroom potential. Housed just under the mansard roof, it could make the perfect getaway for when Mr. Frears wants to play the tubercular starving artist.
Mr. Frears' father once had some advice for him that may come in handy with his new purchase: "Don't fuck it up." Mr. Frears' father in Stephen Frears, the director of The Queen, Dirty Pretty Things and High Fidelity—which, come to think of it, may explain where the couple came up with more than three million dollars to move from their co-op to Cobble Hill.