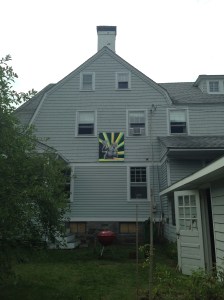 "LAT. 41° 7′ N., LONG. 72° 19′ W," the massive group show that Bob Nickas has organized at Jose Martos's new spread in East Marion, N.Y., has received no shortage of press since opening on July 13, but since it's a little off the normal New York map, here's a quick reminder that it closes this Monday, Sept. 2. This long weekend is your last chance to make the trip to the North Fork. It's about a two-hour drive from Manhattan, but it's well worth it.
Here are a few highlights:
— A big new silver Jacqueline Humphries that looks like it's been scraped in places to reveal rich black secrets. Super trippy.
— Some lusciously battered printing plates hanging on the outside of the house by Ryan Foerster (who has his own summer house show up right now in Brighton Beach), plus a lusciously battered C-print along the front porch.
— A row of five B. Wurtz paintings with white outlines of bowls and glasses against, respectively, red, orange, yellow, mint and green backgrounds, each with a little shelf. Naturally they're hanging above the cabinets in the kitchen: really nice.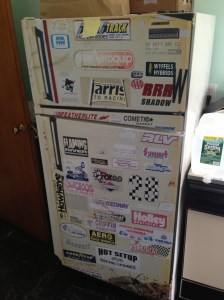 — One of those now-classic Jim Lambie metallic tape floor pieces that runs up the stairs to the second-level hallway.
— A wild painting along all of the basement's walls made by Servane Mary with aqua blue glow-in-the-dark powder, egg and pink fluorescent ink. It looks like the walls are glowing with some mysterious substance, and being down there feels a bit like being in a dark aquarium, in a not unpleasant way.
Plus there are pieces by Adriana Lara, Sam Moyer, T. J. Wilcox, Erik Lindman, Eddie Martinez and many more of your favorite artists.
If you can't make it out there before Sept. 2, Martos's site has some nice install shots. Have a look.
Have a great Labor Day Weekend, folks.