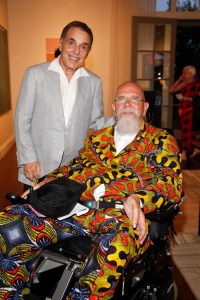 Shindigger loves almost any opportunity to raise a glass to art, as we did recently at Guild Hall's 2013 Summer Gala, which honored artist Chuck Close with an exclusive preview of his new exhibition, followed by dinner and dancing at the colossal Bridgehampton estate of Louise and Leonard Riggio, the chairman of Barnes & Noble.
Attendees sipped wine and more potent libations as a lineup of esteemed speakers addressed the room.
"Let's please have a very warm and heartfelt round of applause for our hosts, the Riggios," deadpanned Alec Baldwin, in an introductory toast that appeared to double as a stand-up comedy routine.
"Can you believe that someone has this beautiful home, this remarkable property?" Mr. Baldwin jested. "And they achieved this level of success selling books?"
Mr. Baldwin was not the only one impressed by the Riggios' riches.
"This is quite a step up this year," one socialite whispered loudly, returning to her table from the fancy portable loo.
"Did you see the giant Stella in the yard?" she then said to those around her who feigned disinterest. "I even hear there are Noguchis lying around. I guess Barnes & Nobles still pays off!"
Mr. Riggio stepped up to the podium shortly thereafter to introduce the man of the evening. "Chuck Close is one of our favorite artists," he proclaimed, thanking those in attendance for coming out. "One of the greatest artists of our generation!"
And with that, the acclaimed visual artist took his turn at the mic, accepting Mr. Riggio's praise with gusto. Or so it seemed.
As guests nibbled on roasted chicken, the honoree, frocked in some African-inspired garb, gave a long-winded speech that was barely audible over the clinking of silverware and champagne flutes.
"They must have thought I was finished!" laughed Mr. Close, who received a lifetime achievement award from Guild Hall, which is based in East Hampton, in 1995. "I'm glad to be back."
With so many speeches, the attendees were getting antsy well before the strawberry pistachio shortcake was served. But the live auction, held later in the evening and led by the dashing Alexander Gilkes, of Paddle8, reinvigorated the crowd. Glasses were quickly topped off, and the bidding commenced.
Two Cindy Sherman silver gelatin prints went for $10,000, and an untitled work by Eric Fischl sold for $122,000. (Both artists were present.)
"Hotter than Anthony Weiner hashtags and Justin Bieber's bed sheets!" Mr. Gilkes cracked as a work of art by Larry Rivers went up on the auction block.
When it came to the final lot—a private yacht cruise and luncheon for 20 with the Baldwins—Mr. Baldwin jumped up to the dance floor to help sell his prize.
"There's no art involved in this auction," Mr. Baldwin said in his typically gruff yet jovial tone. "We're getting on a boat, and we're gonna get shit-faced drunk and then watch the sunset!"
Shindigger liked the sound of it all.
"We're gonna have this outrageous wine, we're gonna have Cheetos, smoked almonds and a lot of shitty bar food," Mr. Baldwin continued. "No art or artists or any of this crap."
A lucky bidder at table No. 2 scooped the experience up for $9,500.
If only Mr. Baldwin could have yachted us over to Governors Island—which is where we reluctantly found ourselves two days hence—to party with acclaimed German deejay Paul van Dyk.
The experience was a little too youthful for our taste. Shindigger threw back three shots of espresso liqueur just to stay up during the deejay's five-hour set.
"It is always very special to play in New York City," Mr. van Dyk told us after his marathon show had concluded. "I've played a few times outdoors in the city at Central Park, but of course Governors Island is a very special location that gives you a fantastic backdrop of Manhattan's skyline."
Already feeling hungover and tired from the rowdy affair, we asked him how, exactly, he had managed to perform for so long.
"I had a portable toilet," he confessed. "And a box of Red Bull on standby."
Shindigger didn't need any Red Bull to stay awake the following night at the Public Theater's opening of Love's Labour's Lost, a production of Shakespeare in the Park. The hilarious musical rendition of the play was a zingy, jumbled mess: Legally Blonde meets Bloody Bloody Andrew Jackson, we thought.
And we loved it.
"I felt like the directors were really clever and the actors were hilarious and great," actress Kathy Najimy, of Sister Act fame, raved to us afterward at a reception at Belvedere Castle, appropriately hosted by Belvedere vodka.
"I'm drinking the Belvedere," Ms. Najimy said matter-of-factly, giving our empty cup a glance. "But it's very cramped here, and we were just leaving."
"Smart move," Shindigger replied.
The event was packed, and there was absolutely no space to get around. The only remedy was to drink more or make a smooth exit, which seemed like the most appealing thing to do.
"It's kinda humid, and I don't have the kind of hair that can handle this!" Ms. Najimy yelled over the noise as she motioned for the exit. "If you're leaving, I'll grab onto you and follow you out."
She then latched on to our arm. Channeling Sister Mary Clarence, we led her to salvation.