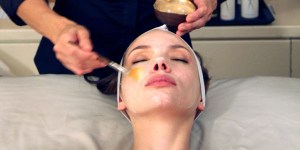 Of all the treatments New Yorkers spend money on for blemish-free skin, we never thought bird poop would make the list.
Clients of the Shizuka New York Day Spa drop $180 on the "Geisha Facial," which includes powdered bird droppings as its main ingredient. The material reportedly helps enhance one's complexion and rids skin of pesky blemishes, according to the spa's website. 
But don't worry, spa owner Shizuka Bernstein isn't running after flocks of pigeons hoping she can scrounge up the stuff, she uses Asian nightingale droppings, which contain an enzyme that helps brighten and heal skin.
Ms. Bernstein brought the full service facial to her spa — located at 7 W 51st St. —  five years ago after a discussion with her mother about ancient Japanese skin care techniques used by geishas.
"Shizuka thought it would be a great idea to bring this technique to her spa here in New York," spa content writer Olivea Shure told The Observer. Ms. Bernstein is currently out of the country researching new skin care techniques.
The bird droppings are used to exfoliate the skin during the full service facial. Ms. Shure said many spa clients come back routinely to receive the facial and FoxNY reported that the spa sees about 100 clients a month requesting the Geisha Facial.
That seems like a lot of cash to lay down to have someone rub poop on your face.
But who are we to judge? We are still using Proactiv.