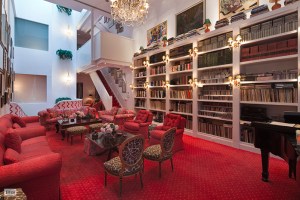 And… scene! The eclectically-decorated townhouse of Broadway legend Hal Prince may not suit all tastes—although with zigzags, polka dots, stripes, cheetah print, florals, blood red carpet and even what appears to be some interior astroturf, the home certainly has something for everyone—but it has won the heart of a buyer.
The Georgian-style townhouse at 48 East 74th, which was more recently asking $19.95 million, is in contract, The Observer has learned. For how much, we cannot say, as Brown Harris Stevens broker Paula Del Nunzio would not divulge any details when we called her for comment. But if Mr. Prince even gets close to his ask, he will have a success on the level of one of his Broadway smash hits (among them Phantom of the Opera and West Side Story) given that he paid a mere $12.5 million for the place when he bought it back in 2009. (Only in Manhattan could $12.5 million be preceded by a mere.)
Back when Mr. Prince and wife Judy took possession of the property, it was a tasteful but rather bland contemporary space. Seeing that 7,375 square feet of bland space (with an additional 2,000-square-foot basement) was a real snooze, the couple did the place up in a more exciting fashion.
First listed in November with Fox Residential for $22 million, Mr. Prince decided to switch brokers in March. Clearly, he was eager to get this show on the road. And the house is not only unusual when it comes to decoration—the double-height living room has 20-foot ceilings and a central atrium that floods it with light. As Ms. Del Nunzio writes in the listing, "its creative space demonstrates that impossibly difficult ideas are the best ideas."
Mr. Prince's career proves that point and now, we guess, his townhouse has, too. (Though we've heard rumors that the buyer is planning to renovate the house completely.) And as for the somewhat outré decor, why bother to hire a stager when your life's work is the stage?