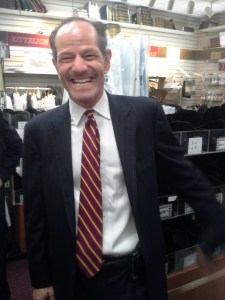 Wearing a yarmulke and a wide grin, former Gov. Eliot Spitzer stopped by Brooklyn's Boro Park neighborhood Friday, visiting two businesses and even purchasing prayer books for the Jewish New Year.
Mr. Spitzer met with local leaders for several hours, attempting to peel away coveted Orthodox Jewish votes from his opponent, Manhattan Borough President Scott Stringer, who, like Mr. Spitzer, is Jewish. Though raised in a secular household, Mr. Spitzer made every effort to convey to Jewish voters and the press that he was still in touch with his roots.
"It is in my blood literally, figuratively. My heritage is in the Jewish community," Mr. Spitzer said on 13th Avenue, Boro Park's main thoroughfare. "I am not as observant as folks in Boro Park but being Jewish is eminently part of my value structure and what I believe in and why I am in public service."
Arriving late to his campaign stop where a tight-lipped volunteer was passing out leaflets, Mr. Spitzer went with a small cluster of reporters to a Judaica "superstore" on 50th Street, which sells various religious artifacts like yarmulkes and prayer books. Guiding Mr. Spitzer was Rabbi Shlomo Braun, who, according to an April report in The Jewish Voice, allegedly misappropriated funds for an Israeli charity. But he told Politicker the story was untrue. Mr. Spitzer insisted the rabbi was a "great man."
As for the main question of the day, Rabbi Braun believed that the city's socially conservative Orthodox Jewish community would indeed forgive Mr. Spitzer for the prostitution scandal that forced him to resign five years ago.
"When push comes to shove, Boro Park communities are enough sophisticated to understand if [you] have qualifications like Eliot Spitzer, compared to the other candidate, [Mr. Spitzer] should be supported," he said. "I happen to know Scott Stringer way before he became an assemblyman … I just feel Eliot Spitzer is considerably more qualified."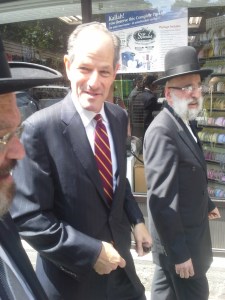 Many Boro Park residents greeted Mr. Spitzer warmly, though some passersby brushed off a volunteer handing out campaign literature, vowing to never vote for the disgraced pol. One person rushed up to Mr. Spitzer to hand him a scratch off lottery ticket. Mr. Spitzer, a bit perplexed, jokingly offered it to a New York Post reporter, explaining that if it were a winning ticket, the paper could use the potential windfall since "it's running a deficit."
The reporter didn't offer a response.
At Amnon's Kosher Pizza, Mr. Spitzer glad-handed a little more, meeting the pizzeria's owners and a supporter, Abe Rubinstein, who, like many, did not know whom the ex-governor was running against. Two children sitting down to eat pizza with their mother and father wanted to know why men and women with cameras and notebooks were flocking to Mr. Spitzer.
"That man is famous," the mother told her children