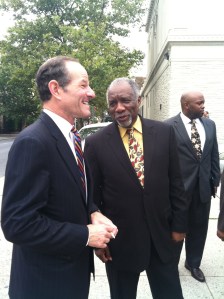 Under the glow of a dangling chandelier in Brooklyn's First Baptist Church this morning, Eliot Spitzer was forgiven.
Mr. Spitzer's candidacy in the city comptroller's race has often been branded as a quest for political redemption even as the former governor tries not to discuss the prostitution scandal that derailed his political career five years ago. But the topic of conversation was not up to him this morning.
Mr. Spitzer returned to Crown Heights–after stumping in the neighborhood last night–to receive the endorsement of a number of prominent pastors, including Reverend Wayne Williams, Reverend Dr. Shellie Sampson and Reverend John C. Davis Sr.
And during the event, many of the religious leaders openly acknowledged Mr. Spitzer's previous personal downfall and accepted him nonetheless.
"The road to redemption is paved with forgiveness," Reverend Daryl Bloodsaw told the audience as they piled into the packed, humid room. "He's come back to say he has unfinished business."
The sense of redemption, and overcoming personal issues, was discussed at length by Mr. Spitzer's endorsers, who referred to that journey as an integral part of their Christian faith. (Mr. Spitzer is Jewish). Reverend Johnny Ray Youngblood saw similarities between Mr. Spitzer and civil rights hero Martin Luther King, Jr.
"When we as African-Americans look at our own history, our own Dr. Martin Luther King, our own Dr. Adam Clayton Powell. There has always been something in a person's life that others sought to use against their greater good," Rev. Youngblood told reporters. "We think this is just another example of that, we would say, even in white."
When Mr. Spitzer took to the podium inside the massive elegant room, he received a standing ovation from the attendees, dressed in their Sunday best.
"I am deeply honored to have you here," Mr. Spitzer began his address. "I feel like this is a homecoming and I feel like this is quintessential New York politics as well. Where else can you have lox and bagels and fried chicken for breakfast?"
"The metaphors we've heard today about redemption and hard work, I believe them very deeply," he said in his speech. "This has not been easy for me."
Later, Mr. Spitzer fielded a few questions from the audience pertaining to sub-prime lending and job availability, before departing the church for another event. Politicker unsuccessfully attempted to catch up with Mr. Spitzer–clearly in a hurry–in order to ask him how today's story of redemption fit into the larger narrative of his campaign.
"Well, you can talk to him about that," Hari Sevugan, Mr. Spitzer's spokesman said as the former governor made his way to a parked car. "It's going to be really hard because that's a longer conversation than this."