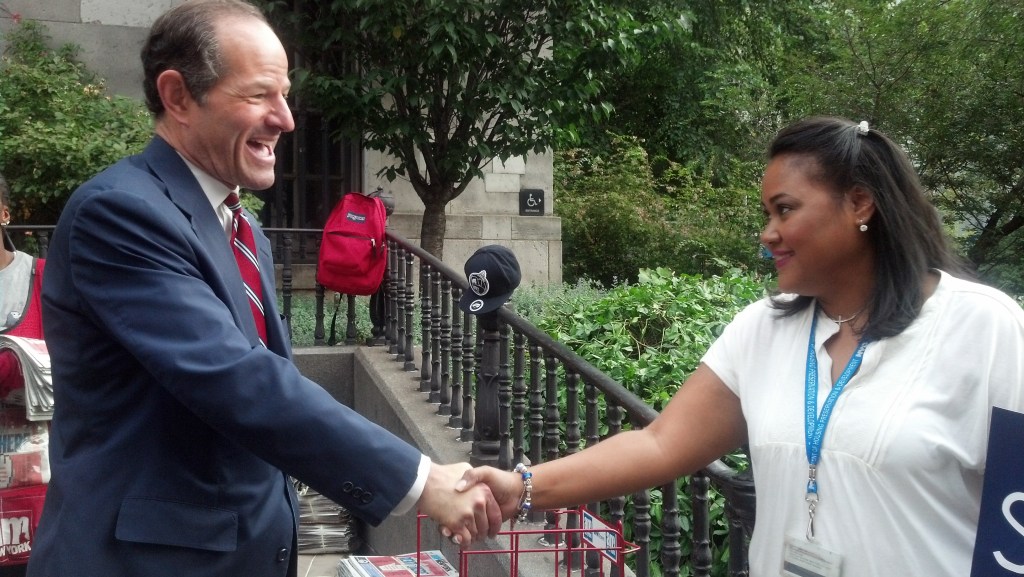 Eliot Spitzer took his comptroller campaign to Downtown Brooklyn today and found an overwhelmingly positive reception as voters shuffled out of Brooklyn Borough Hall's subway station on their way to work.
"Let he who is without sin cast the first stone!" Veronica Horsfore, 62, exclaimed in a thick Grenadian accent as she stood next to Mr. Spitzer. "We are all sinners and this is the time to give this man a chance … God bless you. God bless you."
Mr. Spitzer, slightly baffled, could only offer his thanks.
"We have to forgive and forget. And this is the the time to give him a chance because everybody here, we are all sinners and far short of the glory of God," Ms. Horsfore told the reporters who followed her. "He's good for New York … He's for the poor people. He's gonna shake the Wall Street [and] all of those that's robbin' us, takin' our money."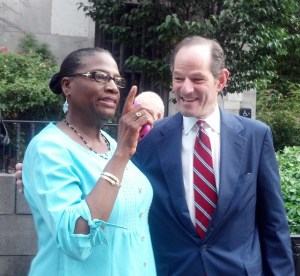 While most of the voters Mr. Spitzer schmoozed with today weren't quite as enthusiastic as Ms. Horsfore, she was representative of many in the crowd of commuters who instantly recognized the former governor and were more than willing to overlook the infamous prostitution scandal that ended his political career five years ago. The only exceptions were a few individuals who squeamishly scurried by and one man who yelled "whoremonger" as he walked past Mr. Spitzer, into the station.
"He's the man because we love him," George Clement, a retired security guard, said. "He does good work for the people … Oh, I love him much man. He do things but he asks for forgiveness, we should forgive him."
"I've just always liked him. I always thought he did a great job for the people. Unfortunately stuff happens and the media blows it out of proportion or whatever. But I like him I think he'll do a good job," said Douglas Steiner, taking his husky for a walk. (He said his dog, Logan, was also a Spitzer fan.)
"Hey Spitzer! Hey! Hey!" exclaimed a younger man as he walked by and into the station. "You can do what you want to do! This is New York City, man!"
For his part, Mr. Spitzer, who described the response he's received as "99 percent" positive, could not be shaken into being anything but positive himself. He declined multiple opportunities to criticize his opponent, Manhattan Borough President Scott Stringer, for releasing a critical web ad that references his scandal-induced resignation. He repeatedly responded to such questions by pivoting to his "Sheriff of Wall Street" days heading the attorney general's office.
"We have five and a half weeks to go, that's not a great deal of time. But it's enough time for me to say to the public, 'Here's what I believe in, here's what I've done," he said in response to one Stringer inquiry. "If you're out in the street with me, people continue to say, 'Continue to do what you did on Wall Street.' It's a metaphor. It's basically saying, 'Stand up for us against those who violated the fundamental rules of economics and fairness.' That's what they want and that's what the comptroller does."
Mr. Spitzer also refused to respond to rumors–pushed by the conservative website Breitbart.com and Spitzer antagonist Roger Stone–that he is engaging in an extramarital affair.
"I'm so tired of the personal attacks and I've answered all those questions. The public cares about what I did in government and that's what I'm going to be talking about. And that's what the public is going to vote based on," he said, ticking off his accomplishments as attorney general. "We've said everything we can say about that. These are attacks that are coming from out of left field … I've said everything we can say about this."
"Alright," he said after three questions on the topic, turning away from the reporters. "There are real voters here."