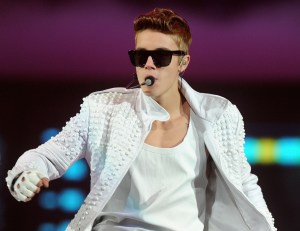 The increasingly negative race to become the next city comptroller now features pie charts referencing a certain Canadian pop sensation.
Ex-Gov. Eliot Spitzer's campaign spokesman Hari Sevugan, who has already used his Twitter profile to ridicule rival Scott Stringer for once proclaiming a "Justin Bieber Appreciation Day" in Manhattan, took his Bieber references even further today with an unrelated attack against Mr. Stringer's attendance record as a trustee of the city's public-workers retirement system.
Although Mr. Stringer's attendance record isn't especially unusual for borough presidents, who typically send staffers to the meetings, the Spitzer campaign argues it undermines a frequently-touted résumé item as the two candidates vie for the pension-managing position. And to illustrate this point, the Spitzer team fired off a press release to reporters entitled, "How Scott spends his days," that includes a pie chart unfavorably juxtaposing the time Mr. Stringer spent with "Meetings Attended" and "Justin Bieber Days Proclaimed."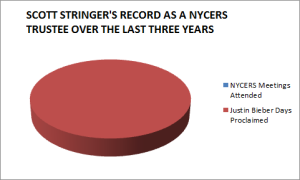 Needless to say, the Stringer camp was not amused.
"The race for Comptroller is not won on Microsoft Paint – it's won on the streets of New York," spokeswoman Audrey Gelman said in a statement, "where Scott Stringer spent his day being endorsed today by 50 clergy members and good government group Citizen's Union."
On the substance of the topic at hand, Ms. Gelman told the Daily News, "Scott has by far the strongest attendance record of any principal trustee on the NYCERS board. He has been an active participant of the NYCERS board for the last seven and a half years, either in person or through his trusted general counsel."
"If Scott Stringer thinks 15 out of 160 is a strong ratio, that alone should disqualify him for a job where analyzing numbers is a primary part of the job description," Mr. Sevugan shot back in the News. "I don't think other folks on the NYCERS boards are running for chief financial officer of the city and where their only financial qualification they have repeated themselves and touted themselves on multiple occasions is that they've played an active role in NYCERS."
Updated (6:38 p.m.): With Mr. Sevugan's response to Ms. Gelman.