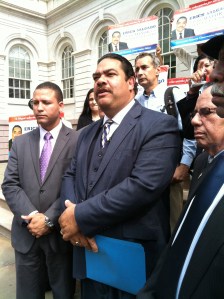 Rev. Erick Salgado has a dream.
That dream is to be included in Quinnipiac University polls of the mayor's race, like his fellow, better-known, Democratic candidates.
To make his point known, Mr. Salgado held a press conference on the City Hall steps this morning and accused the polling firm, as well as debate organizers and the media, of discriminating against his campaign based on his socioeconomic status and his ethnicity.
"Even yesterday, the discrimination is so clear," railed Ms. Salgado, pointing to the coverage of a viciously competitive candidate stickball game organized by City & State. "I won the stickball game organized by Curtis Sliwa, and yet David Chen from the Daily News referred to me as a longshot." (Mr. Chen, it should be noted, works for the New York Times, and did not cover yesterday's event.)
"But this time my friend, he was correct. It was very long shot, 180 feet. I was the champion of this contest and they have to include me in all the major papers of this city," he proudly declared with a small group of supporters holding campaign signs behind him.
Mr. Salgado is polling around two percent in recent public polls that have included his name.
To underscore his complaint on the 50th anniversary of Dr. Martin Luther King Jr.'s seminal "I Have a Dream" speech, Mr. Salgado further compared his struggles to those of the civil rights leader, who is celebrated as one of America's greatest champions.
"This very same day 50 years ago … he had a dream. It is sad and shameful that 50 years after, after this powerful speech, another group of people have to come together," he railed.
"Slavery once again is not abolished," he later told Politicker when asked whether he was indeed making analogies between himself and Dr. King. "Slavery has been transferred to a sector of the Latino community."
A Quinnipiac spokesman did not immediately respond to a call for comment about the complaints.
Mr. Salgado had previously threatened to sue Quinnipiac University for excluding him in its polls on the pretense that he hadn't previously held public office, but said today it likely wouldn't materialize.
"We are talking to a lawyer but probably will drop it because our main purpose of this lawsuit was for them to actually include us in the poll," explained Mr. Salgado, who said that the court had scheduled the case for September 10: the date of the primary.