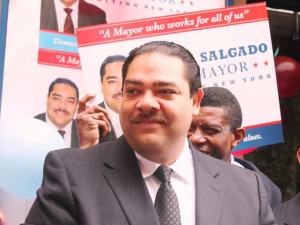 Erick Salgado, a long-shot Democratic candidate for mayor, is furious that Quinnipiac University has consistently left his name out of their polls.
He's so furious, in fact, that his campaign filed a lawsuit today in Manhattan Supreme Court seeking to prohibit the firm from "conducting and/or releasing any voter preference poll for the New York City Democratic mayoral primary which does not include all candidates qualified to participate … in the first primary election debate," according to a press release sent out this afternoon by his campaign.
The suit further asks for "no less" than $1.5 million in damages.
"Quinnipiac describes itself as the provider of timely and accurate polls, known for its exactness and thoroughness, I believe that the poll's actions regarding the exclusion of my name serve to disprove those claims," Mr. Salgado argued in a statement.
Because pollsters often make subjective calls as to which candidates they include and exclude from their surveys, at a glance, it would seem unlikely that Mr. Salgado would succeed in getting that $1.5 million from Quinnipiac, whose spokesman declined to comment on the suit.
The Salgado campaign also has taken interest in the polls that do include his name. A press release sent two days ago, for instance, touted a "50 percent improvement" in his standing in Siena College's most recent poll–up to his current total of three percent.
For today's press release below:
[scribd id=159761181 key=key-1tryzja2onuf0i52ywez mode=scroll]