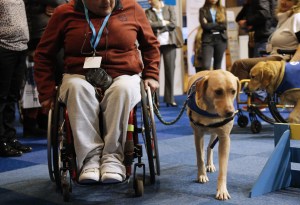 Looks like prep-school teenagers aren't the only ones cashing in on fake I.Ds.
New York dog owners, in an effort to never part from Fido, pick up women, and score discounts on the Jitney, are snapping up bogus "service dog" attire for their pooches, The Post reported.
A quick perusal of eBay yields a variety of faux tags, vests, patches and certificates, circumventing a process that typically involves $1,000+ in dog-training fees, and—oh—a disability.
"I was sick of tying up my dog outside," Brett David, a restaurateur, told The Post. Strolling through Whole Foods on Houston, his Maltese Yorkie, Napoleon, sported a fake "therapy dog" patch, which Mr. David claimed "works 90 percent of the time."
Mr. David additionally touted Napoleon's new socialite creds. "He's been to most movie theaters in the city, more nightclubs than most of my friends," he explained.
En route to the Hamptons, financier Kate Vlasovskaya has relied on her Cavalier King Charles spaniel "service dog" ID card to bypass an extra seat charge on the Jitney.
And after paying $50 for the hologram card, Ms. Vlasovskaya is far from worried about being caught.
"You'd have to go through all of these links or get someone on the line," she said, describing the complicated task of verifying a certificate. "With all of that effort, they will probably just let you in."
But Toni Eames, the blind president of the International Association of Assistance Dog Partners, noted the more dire consequences of the fraudulent trend.
"People don't realize that if the dog misbehaves in any way — if it isn't clean, barks or is overly friendly and jumps on people — that it aggravates other dogs and disrupts the way they do service," she told The Post.
These considerations aside, New Yorkers like Mr. David plan to milk their furry friend's fake I.D. for all its worth.
"I don't care who you are," he stated. "A teacup Yorkie will trump a black [American Express] card when you're trying to pick up a girl."