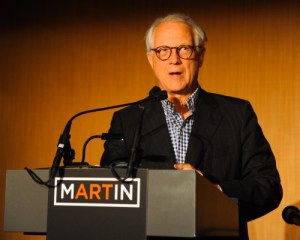 It's been a weird summer for major-league museum directors, with Jeffrey Deitch and Richard Koshalek both stepping down after relatively short, rocky tenures leading, respectively, the Museum of Contemporary Art in Los Angeles and the Hirshhorn Museum and Sculpture Garden in Washington, D.C.
Mr. Koshalek, of course, was the L.A. MOCA's director before he went to the Hirshhorn, guiding the institution for almost two decades, from 1982 to 1999, and so, quite naturally, journalists have been getting him on the horn recently to ask what he thinks MOCA should do as it looks for a new director and continues to try to find its financial footing.
Here's KPCC, Southern California Public Radio, on what Mr. Koshalek told them earlier this week when they checked in with him:
Now, Koshalek, 72, is back in California with a laundry list of suggestions about how to rebuild MOCA, starting by bringing artists back to the board. Ed Ruscha, John Baldessari and Barbara Kruger all quit MOCA's board last year over the direction of the museum. Koshalek says he'd like to see the curatorial staff rebuilt, adding international fellows from Latin America and Asia who'd scout new work and come to L.A. four times a year to speak to the public.

"Isolation breeds irrelevance," Koshalek says. "If you're not connected to the world, and we're not getting information from around the world about what's happening in the art world, it's going to be damaging to the future agenda of the institution."
Back in June, before Mr. Deitch stepped down, Jori Finkel (then of the Los Angeles Times) asked Koshalek if he would return to MOCA if the top job happened to open up. His answer:
"I don't think I would return as director. But if there's the possibility that I could make a contribution in some other form, I would seriously consider it."
In his interview with KPCC, his has a slightly different response. From the article:
It sounds like Koshalek's campaigning for his old job at MOCA. "I wouldn't say no," he says.