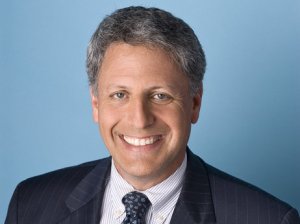 National Public Radio CEO and president Gary Knell is leaving for National Geographic Society, where he will hold the same titles. Mr. Knell, who started at NPR less than two years ago, announced his departure today in an email to staff that was posted on NPR's blog.
"I will be leaving NPR after my term ends in late fall to join the National Geographic Society as its President and CEO," Mr. Knell wrote. I was approached by the organization recently and offered an opportunity that, after discussions with my family, I could not turn down."
When Mr. Knell came to NPR in December 2011 from Sesame Workshop, where he was also president and CEO (Ms. Knell might jump organizations, but he has had remarkable consistency when it comes to position title), he was very enthusiastic about the public radio network.
"Today, I officially make the transition from longtime NPR groupie to a colleague of the journalists, producers, editors, writers and others whose work I've long admired. This organization has a profound impact on our world every single day; I'm humbled to now be able to say "we" when I talk about all that NPR has done and will continue to do," Mr. Knell wrote in a blog post at the time, explaining that, in his overeagerness, he had arrived at 4:45 am to watch Morning Edition.
In his goodbye email, Mr. Knell was similarly enthusiastic about NPR.
"In the upheaval of today's media environment, you offer something few other media companies can. NPR is and will always be a beacon of journalistic integrity, commitment, and courage. We do what we do so that we can serve our audiences and give them what they need to be informed and connected with their communities, their country, and the world we live in," Mr. Knell concluded.
Mr. Knell will leave this Fall, at the end of his tenure.