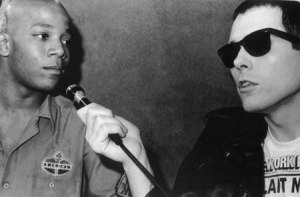 In an art world of $60 million estate lawsuits and jet-set dealers, it's hard to remember a time when anyone would mispronounce Jean-Michel Basquiat's graffiti tag "SAMO," but in 1979 Glenn O'Brien did. He even did it in the presence of the superstar artist, who was on his black-and-white public access show TV Party, sporting a Mohawk, just before he hit it big.
"Perhaps you should put in parentheses 'S-A-Y Hyphen M-O,'" Mr. O'Brien tells a silent Basquiat in the interview (the clip is on YouTube), "so that other people wouldn't make the same mistake that I just did."
"Actually I don't think that's really necessary," says a woman sitting next to Basquiat, off-camera, seriously. "That's not necessary at all."
"Well now I know, so," Mr. O'Brien says, "we'll spread the word."
It was the druggy kind of show where the weirdest possible thing you could do would be to try to act normal—Debbie Harry once jumped around on a pogo stick on the show, by way of explaining that pogo-ing, the British punk dance, was no longer cool.
And though art, music and television may be pretty different now, it's been something of an open secret for the past year that Mr. O'Brien wants to stage a new iteration of TV Party. Now best known as GQ's Style Guy, he's already filmed two pilots in the hope of selling the show to a network, and last week the show's stars, such as they are, assembled at MoMA PS1 around sunset to film the third episode.
At the entrance, voice actor Colter Rule, who serves as the show's announcer and bouncer, sat on a stool and asked you who you knew inside. He wore knee socks and a white safari get-up that clashed with his deep voice (he'd been "Pork, the Other White Meat" and replaced Bill Cosby as Jello). A friend of Mr. O'Brien's from upstate, he agreed to join the show because he'd been familiar with its previous iteration. And, "I've been in SAG for 30-plus years," he said. "I'm just trying to make another Renaissance."
Every 20 feet or so a skinny woman standing near a static-y TV would make sure you knew how to get to the roof for cocktails, and then, once in the elevator, another group of them encouraged you to make a drink from the cart stationed there. TV Party tends to take itself seriously (there's even a manifesto on the website, e.g. "SOCIALISM begins with GOING OUT EVERY NIGHT") and you got the sense the drink was not optional. The camera crew that circled attendees all night zoomed in as they fumbled with the ice. Many of the attendees were, it turned out, also skinny women. Well-dressed ones, too!
The theme for the evening was "Camp," and even though Mr. O'Brien used to edit Interview, the meaning was pretty much straightforward. André Saraiva, the graffiti artist whose club Le Baron hosted an episode of the new show, wore a tan boy-scout uniform, complete with short shorts (really more fascist than socialist, if we're going to get into that) and Ms. Harry sat at a picnic table, her hair and outfit black without irony.
The Partiers then headed to the Colony, a summer assemblage of scaffolding and air-stream trailers in the museum's courtyard for the museum-wide "Expo 1" show. Part installation, part sociological experiment, Colony was where the bulk of the night's shooting took place. "You mean you've never done an upper-decker before?" Tom Sachs asked someone as they mingled around a long dinner table.
"It's been okay," said Lauren Devine, the singer and performance artist who's been living at Colony since June. The weirdest part of living at the museum hasn't even been anything Frankweiler-related, she said, but the hosting of various groups who have lived and worked in Colony for week-long residencies. She mentioned one "group of anarchists" who'd recently passed through.
"I thought anarchists are supposed to be really, really organized within themselves," Ms. Devine said. "But they were fighting the museum every step of the way, and didn't plan anything out." Did they produce any art? "Well they had this whole thing planned that was going to make the museum mad," she said. "Because they said it was going to be this one thing, but then I knew it was really going to be this other thing? But then the whole Trayvon Martin [verdict] happened so they just cancelled it and didn't produce anything. They produced a text, a paragraph."
Everyone sat at the table, where they were served organic, skinny chicken from the museum's restaurant M. Wells, along with homemade whiskey, iguana stew and beaver tail. At least three different groups of people made jokes about the iguana also being organic.
Liam Gillick said he didn't do much camping as a kid growing up in England, though he was in the Order of Woodcraft Chivalry, "basically a Communist version of the scouts." He couldn't say how it differed from normal scouting organizations, in terms of merit badges or structure. "Basically it was the same!" He was cut off by a ten-person marching band that jumped on the table and made conversation impossible.
Some took a detour into the museum, where Mr. O'Brien led a tour of "ProBio," the show on the second floor curated by Josh Kline. The camera crew flocked around Ian Cheng's technological tidal pool there, the clear liquid above the sand somehow conductive, which allowed a variety of phones, LCD screens and sex toys to operate within it.
"Should I throw in mine?" Mr. Saraiva asked Mr. O'Brien. "Do you have my number?"
Without any more discussion, Mr. Saraiva's flicked his black iPhone 5 into the liquid. The screen then changed from Instagram, which he'd been browsing, to a phone call, though the name on screen was longer than "Glenn O'Brien."
"Oh, iz Annabelle!" said an older French woman at the edge of the pool, possibly meaning Annabelle Dexter-Jones, Mr. Saraiva's ex. The French woman reached into the pool and handed the dripping phone to Mr. Saraiva. "Be careful, I think it's toxique!"
"Allo?" Mr. Saraiva said, holding the phone with two fingers, away from his face.
Then Mr. O'Brien gave him a call. "He-hello?" he said speaking into his own phone, two feet from Mr. Saraiva. "You sound really greasy, are you covered in, uh, bacon fat?"
Out at the Colony, M. Wells distributed smores, because the bonfire was for asethetic purposes only. Everyone, including a man in a bear costume, settled in for a performance by the bluegrass-hip-hop group Gangstagrass. They weren't Klaus Nomi (who did a performance on the original TV Party that's worth looking up), but they weren't bad, considering the whole thing had apparently come together pretty last minute.
Just as Gangstagrass finished, a huge explosion went off behind the audience. Loud, loud fireworks went up into the Queens sky for about 30 seconds. Apparently some of the marching band members had planned this tribute to TV Party without any of the organizers' knowledge.
"Okay, that's it, the party's over," said a museum guard in a sweatshirt. She said this several more times, loudly.
Mr. O'Brien wandered over. "Whyyyyy?"
"We already told you no more fireworks," the guard said. "And now there's fireworks again. It's a fire hazard."
Mr. O'Brien paused. "Is anything burning?"
"It will 100% not happen again," said a man with droopy eyes, who stood with Mr. O'Brien.
Mr. O'Brien then moved to the front of the bonfire and made a siren noise with a bullhorn. "Listen up!" he said.
"I've always hated fireworks," he said using the horn, even though there were only about 30 people there. "To me they represent a kind of false patriotism, a sort of glorification of war. If anyone here has fireworks. I ask you to leave right now. We don't want to see any more fireworks." He turned to the man in the bear costume, who'd gone up with him for some reason. "They start forest fires." The bear nodded. "They burn up the, uh, rice patties." Then he seemed to snap to, and remember that he was supposed to be angry. "If anyone here has fireworks just get the HELL out of here. Take them and your narcotics needles, or whatever else you HAAAAAVE."
The speech seemed to satisfy the guards and he stood off to the side to watch the next act, a group of three girls and an acoustic guitar.
"The first two were slightly out of control," he said, of the night's episode. "This one went sorta too easy, I was worried we wouldn't get good stuff.
"It's the same idea, new millennium," he said. "We're just trying to show a cool party, on TV." He isn't sure where any of this will end up. "It could be on Netflix," he said. "If House of Cards is good enough for Netflix, TV Party is.
"I'd rather be on after Girls," he added.