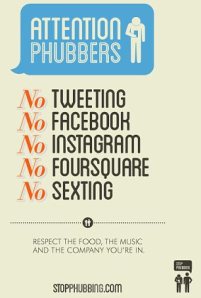 Watching someone bail out on a real-life conversation to stare at their phone while they insist, "No, no, go on, I'm listening," is really freaking annoying. Thankfully, a new term has been coined for the practice — "phubbing" — and Australians and Brits are fighting back against it.
Phubbing is defined on the initiative's website as "the act of snubbing someone in a social setting by looking at your phone instead of paying attention." It's defined by us as, "the worst part of hanging out with someone under 50 years old."
The Daily Mail reports that at least six Stop Phubbing campaigns have sprung up in Australia and the U.K. But given that phubbing is such a grating term, who will launch the "Stop 'Stop Phubbing'" campaign?
One third of Britons admitted they would answer their phones mid-conversation, and one ad agency found that 37 percent of people feel it's worse not to answer a message than it is to "phub" your friends, the Mail reports.
The Stop Phubbing campaign makes posters and even placecards for weddings. Their website has some, if we're being honest, slightly baffling statistics like, "An average restaurant will see 36 cases of phubbing per dinner session. This is equal to spending 570 days alone, while in the company of others," and, "If phubbing were a plague it would decimate six Chinas."
Unsurprisingly, Stop Phubbing reports that New York City is the phubbingest place on the planet, followed by L.A., London and Paris. The site also provides a template for a phub-tervention email you can send to your rudest friends, as well as an Instagram slideshow entitled, "Phubbing Hall of Shame."
Because public shaming and passive aggressive cyberbullying are the fastest way to stop phubbing.