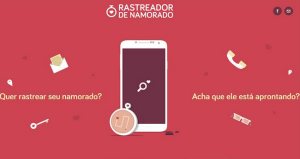 For many Brazilians, learning that the NSA was using its high tech tracking methods to invade their privacy left them rightfully outraged. But when similar spying technology is concocted for home use in an app that can track the whereabouts of a straying mate, who gives a crap about privacy?
Recently, an app called Boyfriend Tracker became a sensation in the South American country with 50,000 downloads in just two months.
Labeled as a "private detective in your partner's pocket," the app hides on the partner's phone and performs functions like forwarding texts, listening in to calls and tracking its location. A free version makes the app visible on the home screen, so you need to pony up $2 so it magically hides itself.
But last week, Google Play removed the app from the store as some fear it could be used for the obvious: stalking and extortion. The app's peak popularity comes at a time when Brazilians are still wary of the NSA spying program, too.
One user scoffed at the comparison saying it's totally different from the NSA since "you're checking up on somebody you know intimately, not some stranger." But of course, aside from violating a person's privacy, the app could also break online harassment and hacking laws.
24-year-old app creator Matheus Grijo, who swears he's never used it on his girlfriend, said it doesn't breach any laws defending it with the good ole' "it's for social and recreational use" excuse. He told the AP the app started as a joke and thinks he's just helping out the greater good:
"In Brazil, we have this culture of switching partners really quickly, so this is a way of dealing with that," said Grijo. "People really appreciate having a tool to help them find out whether they're being cheated on."
The app remains for download on Grijo's website if you're too afraid of confrontation.