Google Ideas Director Jared Cohen once gave a speech titled "Don't pursue ideas with obvious conclusions."
The obvious conclusion might be that the 32-year-old Mr. Cohen and his wife, Rebecca Zubaty, would buy a home in a hip downtown neighborhood like Tribeca or the East Village.
But don't pursue that idea! Instead, Mr. Cohen and his wife will be heading to a stodgy-as-all-get-out place on the Upper West Side. After Mr. Cohen's four-year stint (starting at age 24) with the State Department under two administrations, traipsing around the globe and focusing on Islamic radicalization, Mr. Cohen started at the more sedate Google Ideas in 2010. And now, he and Ms. Zubaty have gone native in their new Manhattan environs, choosing a decidedly old-money uptown co-op, at 610 West End Avenue.
The apartment has all of the old world charm you would (not) expect from someone who recently co-wrote a book with Google CEO Eric Schmidt—a 6-by-11-foot staff room (one of two original "large staff rooms," the listing boasts), a butler's pantry, a grand room (called a "music room" in the listing—and that's in addition to the living and dining rooms, natch) and, of course, a gallery.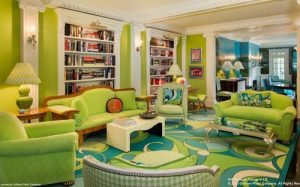 But the real draw is the interior decorating. "Enter into the grandeur and elegance of a bygone era," the listing reads—and the apartment does not disappoint. Mr. Cohen, whose main hobby appears to be talking to radical militants in third-world countries, will have more stained wood cabinets and pink wallpaper (there's, in fact, an entire pink room, from the walls and cabinetry to the drapes and chairs) than he can shake a suicide bomber's vest at (one group of militants once thought putting one on Mr. Cohen would make a hilarious joke).
And the Cohens' third-floor unit isn't even the most colorful in the building—that honor goes to a green-and-blue-themed 11th-floor acid trip of an apartment listed by Raphael De Niro.
Mr. Cohen's new third-floor unit was originally priced at $4.2 million by Lisa Lippman and Scott Moore and Brown Harris Stevens, but perhaps because of the unique, "bygone" design, the seller—James Lebenthal, who specializes "in tax-free municipal bonds and high net-worth wealth management"—had to accept $4.1 million as the price for his pretty pink pad.