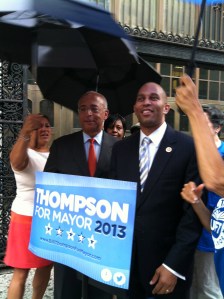 Standing under a canopy of umbrellas as rain crashed down around them, Congressman Hakeem Jeffries formally endorsed Bill Thompson this afternoon–further helping to solidify institutional black support behind Mr. Thompson's quest to become the city's next mayor.
The Fort Greene press conference was billed as an opportunity for Mr. Jeffires to endorse the former city comptroller's educational agenda, but instead focused on the issue of the day: stop-and-frisk.
Mr. Thompson opposes two high-profile police reform bills that are being pushed through today by the City Council. While Mr. Jeffries said he supports the bills, he  argued Mr. Thompson had taken the right stance, given his role.
"I think he has the exact right position for someone who is running to be the CEO of the City of New York," the congressman told Politicker. "Now as a legislator, I've supported those pieces of legislation, in the context of the current administration and the need for immediate corrective action. But as an executive, someone who is going to be the next mayor of the City of New York, I don't think it would make any sense to hamstring his administration before he even takes office."
Mr. Thompson has said, and reiterated today, that he would reform the controversial NYPD practice without the bills, which were both vetoed by the current mayor. The Council is voting on the over-ride today.
"The Supreme Court has said stop-and-frisk is constitutional, that was decided in 1968," Mr. Jeffries continued. "The problem in New York City is that it's being administered in an unconstitutional way."
Mr. Jeffries, a rising star in New York City politics whose endorsement was coveted by the major Democratic candidates, also addressed the topic of education in explaining his endorsement.
"Bill Thompson recognizes that unless we improve dramatically the quality of education in New York City, we're at risk of dooming tens of thousands of young people to life sentences of disadvantage and despair," he said, standing beside members of the teachers' union, which also endorsed Mr. Thompson.
Mr. Thompson now has the support of three of the city's four African-American congressional members, having previously been backed by Congressmen Charlie Rangel and Gregory Meeks. Congresswoman Yvette Clarke, meanwhile, is supporting rival Bill de Blasio, who has been heavily courting the black community as well.