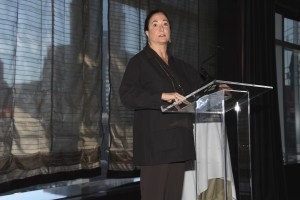 The International Committee for Museums and Collections of Modern Art, a k a CIMAM, announced the 15 board members who have been elected to lead the organization from 2014 to 2016. The group's 575 voting members, modern and contemporary art curators and museum directors from around the world, picked the board, and selected Bartomeu Marí, the director of Museu d'Art Contemporani de Barcelona, as president, and Patricia Sloane, the associate curator of Mexico City's Museo Universitario de Arte Contemporáneo, as secretary-treasurer.
Two members of CIMAM, "an international forum of professional character for the discussion of theoretical, ethical and practical issues concerning the collection and exhibition of modern and contemporary art," currently work at institutions in the United States: Madeleine Grynsztejn, the director of the Museum of Contemporary Art, Chicago, and Kathy Halbreich, the associate director of the Museum of Modern Art in New York.
The full list of board members follows below.
Bartomeu Marí, director, MACBA Museu d'Art Contemporani de Barcelona, Barcelona, Spain, Secretary-Treasurer of CIMAM
Patricia Sloane, associate curator, MUAC/UNAM, Mexico D.F., Mexico
Charles Esche, director, Van Abbemuseum, Eindhoven, The Netherlands
Ann Goldstein, director, Stedelijk Museum, Amsterdam, The Netherlands
Madeleine Grynsztejn, director, Museum of Contemporary Art, Chicago, USA
Kathy Halbreich, associate director, The Museum of Modern Art, New York, USA
Philipp Kaiser, director, Museum Ludwig, Köln, Germany
Abdellah Karroum, director, Mathaf: Arab Museum of Modern Art, Doha, Qatar
Mami Kataoka, chief curator, Mori Art Museum, Tokyo, Japan
Vasif Kortun, director of exhibitions and programs, SALT, Istanbul, Turkey
Kian Chow Kwok, executive vice chairman, Yellow River Arts Centre, Yinchuan City, Ningxia, China, and senior advisor, National Art Gallery, Singapore
Elizabeth Ann Macgregor, director, Museum of Contemporary Art, Sydney, Australia
Frances Morris, head of collections (international art), Tate, London, United Kingdom
Marcela Römer, director, Castagnino+macro Museum, Rosario, Argentina
Jaroslaw Suchan, director, Muzeum Sztuki Lodz, Lodz, Poland