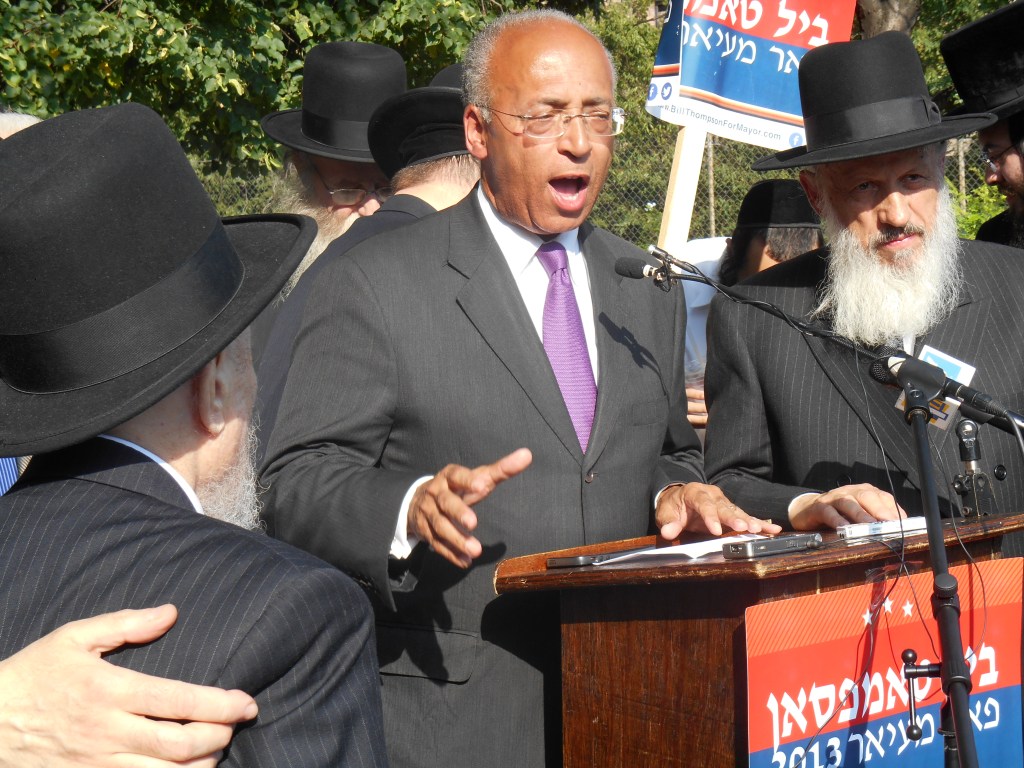 He claimed he was the 11,000-vote man.
A power broker in the Hasidic Jewish community boasted today that his endorsement would deliver more than 10,000 votes to his chosen candidate, former comptroller Bill Thompson, who is now locked in a tight mayoral race with just two weeks to go until primary day.
"People trust the leadership in the community and people understand they have been here for years," said Rabbi David Niederman, leader of the United Jewish Organizations of Williamsburg, at a press conference this afternoon touting his support. "This community, thank God, has not only survived but really progressed over here so people believe [the leadership] made the right decision."
Rabbi Niederman, a longtime leader of the dominant Satmar Hasidic sect in Williamsburg's close-knit Jewish community, was one of the more coveted endorsers of the mayor's race because political observers believe he can actually deliver a good portion of the votes he promises. According to insiders, Mr. Thompson, with his own long-standing Brooklyn ties and support from the county's Democratic establishment, lobbied Rabbi Niederman extensively, beating out rival Bill de Blasio.
At the event, Rabbi Niederman praised Mr. Thompson's experience as a former comptroller and Board of Education president, and spoke about the burgeoning community's desire for more affordable housing and less interference from the government into their religious rituals. The rabbi further boasted that Mr. Thompson, unlike his opponents, would be able to deliver on his campaign promise because, he said, he understood how to cultivate his political ties to benefit the Hasidic community.
"It's wonderful to say we are going to improve education, it is wonderful to say we will improve open space," he said. "But you need one thing, which is money. And for that you need experience."
For his part, Mr. Thompson spoke mostly in generalities, but he did promise–to Rabbi Niederman's delight–that he would revisit the controversial issue of regulating the ritual circumcision practice known as metzitzah b'peh if elected mayor. The ritual involves a rabbi using his mouth to draw blood from a circumcision wound and has been criticized by Health Department officials for spreading disease. Mr. Thompson hinted that he might drop the parental consent forms required by the current mayor's administration.
"I'd be happy to sit down and revisit this issue again. It is the right thing to do," Mr. Thompson told the group. "This is government that has infringed on religious beliefs that have stood for thousand of years. We can balance safety as well as religious beliefs, that's what we've always done."
But the round of hand-clapping and back-slapping that followed the remarks was broken up when a Hasidic protester barged into the event, shouting in Yiddish that Rabbi Niederman didn't represent the community, which is bitterly divided between the Aroynim and Zaloynim sects following a 2006 succession feud.
Supporters of Rabbi Niederman dragged the man away from the crowd, shoving him as he tried to make his way back towards the podium and, at one point, ripping off his hat. Fellow Satmars then ringed the man, who was identified by some at the event as a local gadfly not belonging to either sect
Michael Tobman, a consultant who works with the smaller Aroynim Satmar faction, was skeptical of the 11,000-vote claim but seemed otherwise pleased that their endorsement drew so much interest.
"With much love, respect, and affection for Rabbi Niederman," Mr. Tobman told Politicker in an email, "I have no comment beyond expressing satisfaction and pleasure that the Satmar community in its entirety is being so aggressively courted."