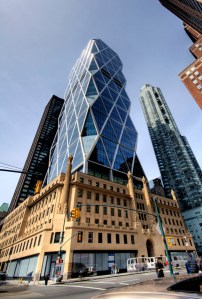 Hearst laid off editors in the company's digital division today. Elle.com editor Amina Akhtar and Cosmopolitan digital director Abby Gardner have both been let go, Mashable reports. Mashable updated its post earlier this afternoon to include the fact that Ms. Gardner's out of office auto response confirms that she is no longer at Cosmo.
Both editors took control of the news on their Twitter feeds. 
Ms. Gardner's Twitter account this morning alluded to the news:
Ms. Akhtar also confirmed the news on her Twitter account, where she changed her bio to reflect her new status: "Formerly of ELLE.com . Free agent. Hire me, really."
The newly free agent tweeted the news this morning:
Since breaking the news, Ms. Akhtar has continued to tweet about it, including the fact that she now gets to skip Fashion Week. "So you all can just ignore my show requests. Ahem…," she tweeted.
The fact that Fashion Week starts is just two weeks away makes it a surprising time to lay off women's magazine editors. But according to Mashable, more layoffs are expected before the summer is over.
Know more? Shoot us an email.