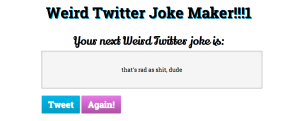 So you've heard of Weird Twitter, but you're still not sure you get it. Enter the Weird Twitter joke generator, which is preloaded with the vocabulary of "Weird Twitter" users everywhere. (Think "sext:", "*batman voice*", "girl, are you a X," etc..)
Created by Twitter users @Rad_Bug and @cosmickoopa, the generator lets you press a button and poof, you're ready to tweet "what idiot called them moms instead of favstars" to your eager followers.
Some examples:
dang girl, are you a cool sport? Because your skull is gay
 sext: cum my big digimon
*batman voice* dick denim
balls, do you even flex?
*clears throat* space jam twerk denim
Enjoy?