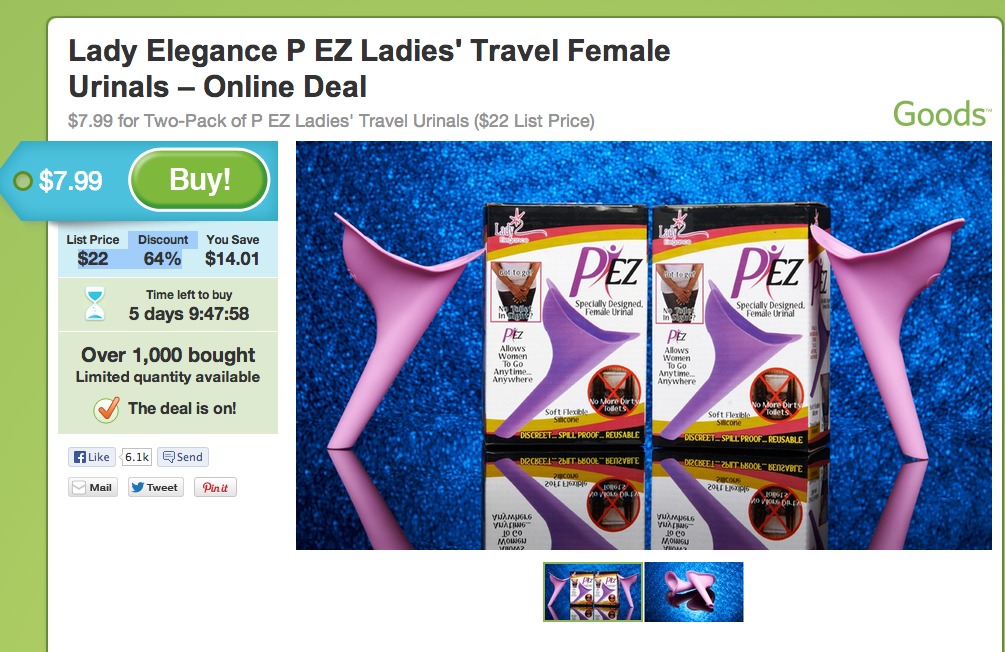 Ever find yourself wondering, on a slow Thursday afternoon, what Groupon's up to these days? Well, here's an update, courtesy of ABC News: The site is currently running a deal on P EZ travel urinals for the ladies, though really it would be better described as a pee funnel.
P EZ? Get it?
Avoid unsanitary seats at the facilities of a festival, sporting event, or campground. After it's sanitized, the hygienic accessory can be stored discreetly within a bag or conspicuously atop one's head.
And it's selling faster than a pair of Wet Wipes at Bonnaroo, too, according to ABC News; more than a thousand have been sold, and there are "limited quantities" available. There's bad news, though, if you'd like buy in bulk: "Limit 3 per person, may buy 2 more as gifts," the product page warns. You get two mobile pissiors for just $7.99–a 64 percent discount from the list price of $22!–plus $2.99 shipping and handling.
They are reusable, and the manufacturer is called "Lady Elegance." So if you're looking for bridesmaids gifts, you're welcome.