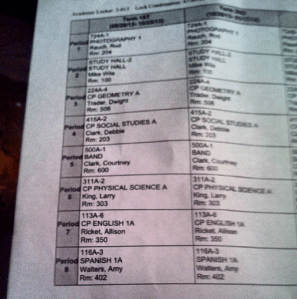 Ugh, there's no worse feeling in an already traumatic teenager's life than being stuck in AP Euro for a semester without any of your friends. But that nightmare might soon be over thanks to WikiRoster, an online service where teenagers can mix and match each other's schedule to soften the blow of the grinding high school experience.
It was–not surprisingly–created by some teenagers way smarter than us. Jason Lin attends the Illinois Science and Math Academy, which has churned out prestigious alumni like OKCupid and Palantir cofounders. Sick of having to trudge to the guidance counselor to have his schedule fixed, he decided to take matters into his own hands.
On WikiRoster, kids volunteer their information, such as class times and courses. The site then spews out a visual grid contrasting it to with friends to see who are in each others' classes. The site does more than counteract social anxiety, too. WikiRoster also provides space for kids to talk about homework and class projects.
The site's business plan is basic so far (they're mulling targeted advertising), but Mr. Lin is already mapping out new features, including beefed up privacy options, Facebook integration and developing a college version. As of now, only some schools in the midwest are using it.
This really only compounds our feeling that we actually learned nothing in high school.
(Via Wired)