Two weeks before the start of the U.S. Open, the first-ever Grand Slam event Andy Murray will enter as defending champion, the No. 2 player in the world was 25 miles from downtown Cincinnati, quietly strolling onto Court No. 5 at the Lindner Family Tennis Center for a noontime practice session ahead of the Western & Southern Open. Roger Federer was just finishing up, and the crowd barely noticed Murray, head lolling slightly, as he carried his racket bag along the sideline.
To be fair, Federer's session had been a bit of a scene. Spectators crammed the courtside fences. Former player and ESPN commentator Mary Joe Fernández excused her way toward the rails, whispering hellos to members of the Swiss star's team. At the center of it all was King Roger, earning "oohs" and "aahs" with every perfect stroke. While one would be a fool to attempt to describe Federer's game in the wake of David Foster Wallace's 2006 New York Times essay—in which he declares Federer's forehand "a great liquid whip"—it is impossible not to be mesmerized by how lithe and regal the former champion still is in person. Like Yankees closer Mariano Rivera, he possesses a grace of movement that cannot be dulled with age—a near lullaby of body motion—and leads to a stupefying explosion.
Murray, for his part, is surprisingly thick at close range, built like a tightly wound cord, not the mess of limbs and lank that one sees racing behind the baseline during televised matches. And while he may lack the fluid grace of "Rog," the 26-year-old Murray doesn't suffer for power, with a deliberate windup and a fierce wrist twitch. As the world's No. 2 began to hit with the day's practice partner, Benjamin Becker, a thrill rose through the crowd: Federer was signing autographs. The bystanders chanted, "Roger! Roger!"
Let them chant.
Federer may have the attention; Murray will take the hardware. Indeed, the past 12 months have seen one hell of a run from the Scotsman, as he has racked up not only trophies, shedding the "choker" tag that plagued him after dropping his first four Slam finals, but also celebrity fans, like Sean Connery and Kevin Spacey, who admitted to being a Murray "groupie" in an interview with British GQ.
The winning stretch started for Murray with the London Olympic Games last August, when he defeated Federer, representing Switzerland, to earn a gold medal in tennis—Britain's first man to do so since 1908. Barely one month later, he hoisted the trophy at Arthur Ashe Stadium, besting Novak Djokovic, the world's No. 1 player, in a five-set thriller for his first major win, and a British man's first since Fred Perry in 1936. The cherry on top came earlier this summer, when Murray won Wimbledon, the first British man to do so since—well, you get the idea.
As for the other Slams, he was runner-up at this year's Australian Open and missed the French Open due to a back injury. In fact, Murray has made the finals in four of the last five majors. Not a bad percentage, but the champ is no longer satisfied with second-place finishes—and no one is harder on Andy Murray than Andy Murray. (If the Yankees analogue to Federer is Rivera, then Murray's is Paul O'Neill.) Since turning pro in 2005, he has developed—and subsequently done his best to shed—a reputation as a moody court performer. Known in the past to abuse his rackets, mutter disgustedly to himself, swear at umpires and complain about conditions like court speed and temperature, Murray has not always endeared himself to crowds or the smothering British media. But his intensity is borne of a profound competitive spirit, not a bad attitude.
"He lives and breathes tennis," Jez Green, Murray's fitness trainer, would tell me when we met in the lobby of a Marriott off I-71, the tournament's host hotel. "I have in the past used the word 'obsessed,' and he doesn't particularly like me using that word, but … a healthy obsession. It is a professional, constructive, driven obsession."
On the practice court, Murray and Becker began to rally in earnest. Pretty soon, Murray leapt into form, spraying shots from sideline to sideline, pouncing forward, taking the attack. The Wimbledon champ sent a screamer of a serve toward the deep corner of the left service box. Becker, a top 100 player, just barely got his racket up for a backhand when the ball caromed away. The return man stared at his left index finger, shaking it violently. He muttered, "Fuck."
After an hour, Becker packed up his rackets and took off. Murray, who under Green's tutelage has developed into something of a fitness freak—in their six-plus years together, Murray has put on as much as "10 kilos of muscle," according to the trainer, while maintaining the same level of body fat—was nowhere near done. Shadowed by Green, Murray led himself through a variety of tennis drills and balance exercises (his coach, Ivan Lendl, had not traveled to Cincinnati).
"He's never put in a bad session," Green said. "It's just part of his lifestyle. He wouldn't not go to the gym. He wouldn't not do his two hours."
And there'd be no time for slacking off, even if Murray didn't have such an unshakable work ethic. The tournament in Cincinnati, a Masters 1000 event, marked the last tune-up before the U.S. Open. In the month-plus since his triumph at Wimbledon, Murray had played only two matches—the second of which was a straight-sets defeat at the hands of Ernests Gulbis during the Rogers Cup in Montreal. Then again, it was only one year ago that Murray headed into the major in Flushing Meadows having retired in Montreal due to a knee injury and lost in Cincy to an unseeded player, and we all know how that turned out.
When Murray was 15 years old, he came to the U.S. Open for the first time to compete in the juniors bracket. As a child in Dunblane, Scotland, he would stay up late to watch the tournament in NYC, and now here he was, in the flesh.
Unlike at other Junior Slams, where the big names are sequestered from the young'uns, Murray remembers eating at the same restaurant as his heroes during the Open, alongside stars like Andre Agassi and Tim Henman, the previous Great British Hope. "I got to meet some of these guys and just be around them and see them," Murray recalled, decked out in Adidas casual (track pants and a T-shirt), when we sat down hours after his practice session, on a patio attached to the Cincinnati tournament's press-conference room.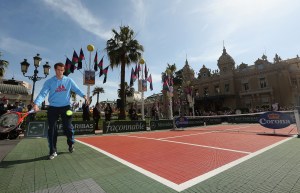 The experience stuck. Murray can still vividly recall that year's men's finals—an epic battle between Pete Sampras and Agassi, whose defensive style of play has often been invoked in comparison to Murray's game. But what struck the deepest chord was a memory of watching a night match at Arthur Ashe Stadium.
"I watched it from right at the top," Murray explained. "You can't see much from up there, but that was it. That's when I realized that was where I wanted to play. It would be a dream to play on Center Court."
It was near-heresy for a British subject, but even more than Wimbledon, the U.S. Open became the tournament Murray fantasized about winning. And almost immediately, he found success in New York. In 2004, he took the boys' singles title. Four years later, he made the finals as a pro, his first at a Grand Slam—that was also the tournament in which Murray first beat Rafael Nadal. (The first time he beat Federer was in Cincinnati in 2006, breaking the megastar's 55-match winning streak in North America.) And then came 2012.
When Murray made the championship match at Wimbledon last July, he seemed ready to take that final step but lost in four hard-fought sets to Federer. In an on-court, post-match interview, Murray broke down crying, telling the world, "I'm getting closer." The British crowd erupted in support of the kid from Scotland, whose emotional displays during matches had always been bottled up with stoicism after the fact.
One month later, his win at the Olympics demonstrated beyond doubt that Murray could beat the world's best players on any stage. Yet when he arrived at the U.S. Open finals last September, he was anything but relaxed. "I was the most nervous I'd ever been before any match I've played," he said. "More nervous than the Olympic finals or any previous Slams.
"It actually starts at my feet," he continued. "When I get nervous, some people get nervous in the head. I feel it in my legs. Sometimes it looks like I'm in a bad position when I have to chase a ball, but I actually feel comfortable. When I'm not moving, when I feel locked up, I hate it. I hate that feeling."
His feet moved just fine. Murray took the first two sets against Djokovic, including a 22-point first-set tiebreaker, before dropping the next two, forcing a deciding fifth set. One had to wonder if he was going to let the opportunity slip—if he was going to lose yet another Slam.
"People are always saying, 'Oh, you're too good not to win a Grand Slam,'" Murray told me. "Every time a Slam passed and I hadn't won one, the doubts get bigger and bigger, and I felt like I was a bit of a loser."
Murray coolly took the deciding set, 6-2. "When I came out to serve for the match, I actually felt quite calm," he said, looking up to see Martina Hingis, who has been staging yet another comeback, walk by us in gray spandex. "I think in my head I had built that moment up so much that, once I actually got there, it wasn't so bad, and a lot of the crowd was behind me."
He waved to Hingis, then added, "Having 20,000 people behind you makes a big difference."
Much has been written about Murray's smart hire of coach Ivan Lendl, the eight-time Grand Slam singles winner and former No. 1, on New Year's Eve 2011. An equal amount has been said of the job Lendl, Murray's fourth professional coach, has done in turning his young charge into a champion.
Lendl, who is 53 and had been out of the game for nearly two decades when he signed on with Murray, has been credited with opening up his player's forehand, so he can meet the ball earlier, and fostering a generally more aggressive approach. Some believe Murray, who has always been comfortable playing long, drawn-out points and cites "anticipation" as one of the strongest aspects of his game, needed to work on ending points more quickly, but Murray insists that's a misunderstanding.
"It's almost a role reversal," he said. "Not so much shortening the points"—which is hard to do these days, with increased player speed and slower court surfaces—"but being the one who's standing in the middle of the court making the guy do the running."
Murray, whose counterpunching style has been described as "deceptively clever" due to his customized arsenal of off-the-cuff shots (The New York Times Magazine suggested "he may be the first artisanal tennis player"), summarized his new mindset thusly: "You want to lose the match on your terms."
Easier said than done. After all, it's not like Murray had never considered the benefits of playing aggressively before. "A lot of it is believing in yourself, and courage, almost," Murray told me. This was where Lendl, who works with his star pupil in two- or three-week blocks of time before taking a break (à la Cincinnati), came in. "When I practiced all those things in the past, I wouldn't necessarily do them on the court. He's managed to get me to practice those things and transmit them onto the match court."
Without question, the partnership has proved useful, even if the men make a bit of an odd couple. As a player, Lendl's on-court demeanor was the opposite of Murray's—he was non-emotive, a machine—but their career trajectories are eerily similar. Like Murray, his coach lost the first four Slam finals in which he appeared. And while Murray has to contend with superstars like Federer, Nadal and Djokovic, Lendl had to compete against Jimmy Connors, Björn Borg and John McEnroe.
"That's the thing I've found most beneficial working with him," Murray said. "Getting to speak to him on an emotional level about what it's like to lose your first four Slam finals. Not many guys have lost their first four Grand Slam finals. He's one of the few."
Around 5 p.m., Murray was needed out near the food court, where he was scheduled to sign postcards of himself for 100 lucky fans. Flanked by ATP officials, we descended into the bowels of Center Court, emerging past a few outdoor concession stands, and then through another service passageway.
Walking with Murray in the open air of a tennis tournament was kind of like what I imagine the experience of being with Mark Hamill at a Star Wars convention to be. "It is a bit strange," he admitted.
Grown men shouted his name from a distance, while braver souls ventured up for an in-transit autograph or photo op. "When you walk down the street and it's just a couple people, it's easy," he said, giving a fist pound to a seated patron. "But when it's 10,000 people asking, you feel bad, and they'll think you're rude, but you just can't."
Not that he is unsympathetic—it wasn't that long ago he was the one pleading for an athlete's attention. "I went to Wimbledon once as a kid, and I was desperate to get Agassi's autograph," Murray recalled. "And I was right there, but I didn't get it. I was so down." (That sob story's happy ending: "He sent me a signed book.")
Murray churned out signatures before a swarm of lingering fans who then stalked the star as far as event security would allow when we headed back to the sanctuary of the players' lounge. There, sweat-drenched athletes sprawled on couches and manhandled the joysticks of old-school arcade games, like "Ms. Pac-Man" and "Tekken 4." It was easy to believe tennis is enjoying a modern golden age.
Perennial U.S. Open darling James Blake soon entered the lounge, fresh off his first-round upset of Jerzy Janowicz. The public-address system crackled: "Venus Williams, please report to the tunnel." Murray's handler was still holding the stack of postcards and offered it to him.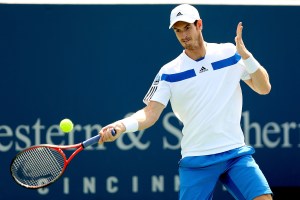 "What am I going to do with them?" Murray asked. I suggested he make a collage or mail them as Christmas cards. He laughed. "I really don't want them."
Though plenty of other people do. If Murray stays healthy, he has a chance to become one of the all-time greats, and his emerging rivalry with old friend Djokovic—"We grew up together basically," the Serbian player said before his practice session last Tuesday—is on the brink of supplanting Nadal-Federer as the most compelling in the sport. But health is neither a guarantee nor the only challenge.
Murray isn't so green as to think personal injuries are the only potential stain to tennis's new golden age. He has spoken before about the possible problems of match fixing and doping within the sport. "Everyone is suspicious of everybody," he said. "You'd be completely naïve to think nothing goes on. In sports, there are people who throw matches, and there are referees who help influence games, and it's nonsense." As for performance-enhancing drugs, he said tennis is getting better at sniffing out dopers, incorporating more blood testing, but it's impossible to keep everyone clean. "If someone really, really wants to cheat, they can cheat."
It was time then for Murray to gather his things and head back to the hotel for some rest. Tomorrow would be another grueling day, as the hard-court season grinded toward the start of the U.S. Open. Murray, who was eventually bounced from the Cincinnati tournament in the quarterfinals by Czech player Tomás Berdych, confessed he doesn't know what to expect this year in New York, since he has never gone into a major with a title to defend. He said he will mirror last year's schedule as much as possible and will even stay at the same hotel.
Another thing that won't change: his ambition. "I want to win another Grand Slam," Murray said. "I want to try to win as many as possible. But I'm also aware I could go the rest of my career without winning one."
We shook hands as we parted ways, and I couldn't help but register surprise at the lightness of Murray's grasp. The world's No. 2 tennis player—6-foot-3 and 185 pounds, with almost no body fat—didn't possess the knuckle-crunching hand-clamp of most alpha males. Instead, he had the gentle grip of a pianist or of a man with nothing left to prove.