Chuck your red Solo cups and jump the back fence, East Williamsburg. Soon-to-be-shuttered extra-legal party spot House of Yes was raided by the fuzz in Saturday's wee hours. The NY Post reports that the NYPD arrested manager John Politowski, bartender Samantha Isom, doorman Aaron Edwards and security guard Robert Lasenburg for slinging booze without a license.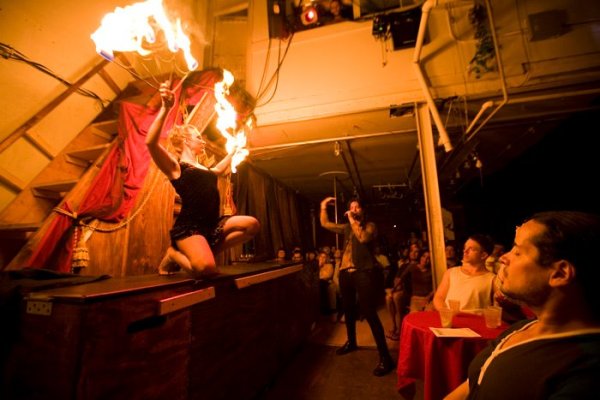 The venue's legacy includes a bevy of kooky parties and performances, including its annual Christmas Spectacular, a showcase complete with dinosaurs and a beat-boxing dreidel.
According to a mass email from the venue's creators, House of Yes gets the boot from its current space on August 25. Good Samaritans are encouraged to stop by to help pack up anytime between 11 and 8. Although there's no official guarantee of free booze, the call is tacked with, "Trust us- we make it FUN!"
In response to Gothamist's request for comment on Saturday's buzzkill, a woman referred to only as Anya said that after the evening's concert, "we rented the space for a private event afterwards as we often do. There was some sort of a police altercation which we still don't know much about, but some people were apparently detained."
Spoken like a true bootlegger.