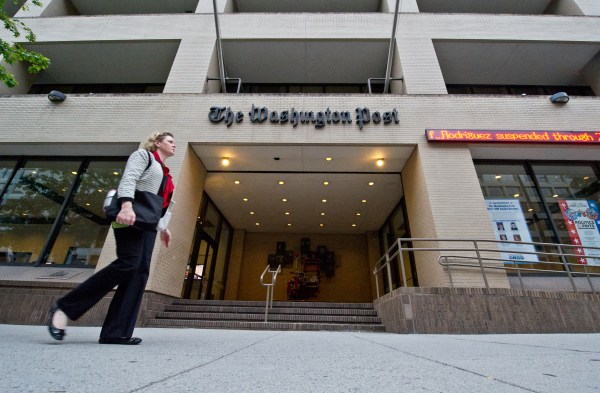 Almost as surprising as news of Jeff Bezos's $250 million purchase of the The Washington Post was the fact that both sides kept the deal under wraps for months without a leak.
Few in the media world even knew that the Post, which has been owned by the Graham family for four generations, was up for sale—even as the paper was quietly peddled to several possible investors.
In The Washington Post's first of many articles on the deal, Donald Graham, the Post Co.'s chief executive, said that several months ago he had hired investment firm Allen & Co. "to shop the paper" around "with extraordinary secrecy." 
Representatives of the firm spoke with six interested parties before deciding to sell to the Amazon founder. Mr. Graham estimated that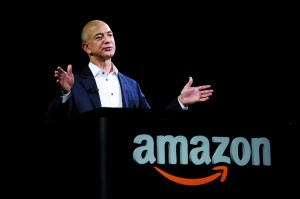 Allen & Co. first made contact with Mr. Bezos in March or April, but talks broke off until mid-July.
Rival papers didn't manage to follow the money. Not only did the Post keep its scoop out of the media, it was equally determined to win the news cycle with the story once it broke—despite media watchdog Jim Romenesko almost throwing a wrench in the plan.
At 4:15, Post publisher (and recent Times Style section subject) Katherine Weymouth sent out a newsroom email requesting that the staff join her "promptly at 4:30 p.m. in the Auditorium for an announcement."
Mr. Romenesko tweeted about Ms. Weymouth's email to staff at 4:27. Then, at 4:33, he began tweeting news of the deal, prompting audible gasps in newsrooms throughout the country (and 790 retweets). Two minutes later, he followed up with a tweet explaining that he was listening in on the meeting. "WaPo staffers asked not to tweet for 10 minutes," he wrote.
By the time the shocked staffers returned to their desks, Washingtonpost.com had published a five-page story by Post media reporter Paul Farhi about the deal.
When Off the Record caught up with Mr. Farhi, he expressed amazed relief that nobody else in the media had so much as guessed at the sale prior to Monday's announcement.
Mr. Farhi himself knew something was cooking last Thursday, when he was on vacation and his editor Marty Baron gave him a heads-up about a big assignment without divulging any details. On Sunday morning, the reporter was given his classified mission. "I was stunned," Mr. Farhi recalled. And then he got to work. He spoke to Ms. Weymouth and Mr. Graham, which he said was like "talking to friends," and he interviewed Mr. Bezos over the phone.
The piece closed three hours before the rest of the newsroom found out, during which time, Mr. Farhi said, he was just hoping that he wouldn't get scooped.
"It's like that dream where the plane is going to crash but you can't tell anyone," Mr. Farhi said. "It amazes me it didn't leak. I was counting down the moments until we could tell our news."
Within half an hour, Ms. Weymouth, Mr. Graham and Mr. Bezos had all posted their comments about the sale on the Post site.
Within two hours, The Washington Post homepage was exploding with news and analysis of the sale by writers and bloggers who had found out at the staff meeting.
While other news organizations tend to script careful coverage of their own business affairs, the Post's coverage of itself quickly became a
free-for-all, as business writers Neil Irwin, Ezra Klein, Jim Tankersley, Andrea Peterson and Sarah Kliff processed their thoughts in real time on Wonkblog, the Post's business blog. "Bloggers always have an opinion," said Mr. Farhi.
The opinions seemed candid and conveyed genuine surprise. Mr. Klein wrote that staffers originally thought that the meeting was going to be about the sale of the building, not the company (in fact, the building was not part of the deal, nor were Washington Post properties Slate, The Root and Foreign Policy).
Lydia DePillis posted an highly speculative take on how owning a paper may be good for Amazon. Dylan Matthews ran a blogg-y FAQ titled "everything you need to know about our new Bezos overlords." There were reaction stories and detailed analyses of what it means for the paper, the city, the stock price, the Graham family and the industry. There were stories about "Jeff Bezos' other wild, crazy investments." Post columnist Gene Weingarten ran an open letter to his new owner. There were interviews with Mr. Graham and Ms. Weymouth, as well as multiple time lines of dates and events in Washington Post Co.'s history.
Before 24 hours were over, a search of "Washington Post sale" on the Post site turned up a staggering 177 results—89 blog posts, 75 articles, eight videos and two photo galleries (although some of these were AP stories). Clicking on just a small fraction of the coverage meant that non-subscribers blew through their monthly ration of 20 free articles.
Many of those articles appeared in Tuesday's paper, which featured blanket coverage of the deal from every possible angle and took up most of the front page. A fitting way to greet a new owner not known for half measures.