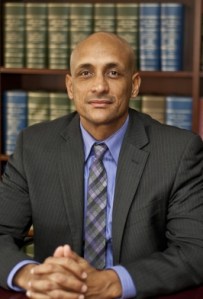 While Mayor Bloomberg is furiously trying to push through as many projects as possible before his departure (the Midtown East rezoning, SeaPort City, making people take the stairs), his commissioners have, as commissioners are wont to do in the last months of an outgoing mayor's term, been making arrangements for life after Bloomberg. New York City Housing Preservation and Development commissioner Mathew M. Wambua is the latest to depart, leaving to take a position as president of RHR Funding LLC, part of the Richman Group's mortgage lending business, the agency announced today. He will be succeeded by deputy commissioner RuthAnne Visnauskas.
Mr. Wambua, who has held the position since the spring of 2011, inherited the task of bringing Bloomberg's New Housing Marketplace Plan, which aimed to create or preserve 165,000 units, home, so to speak. The mayor's office credits Mr. Wambua with creating or preserving 47,000 of those units during his time in the position. He also oversaw the first phase of the Hunter's Point South affordable housing development, which with 5,000 units, will be the largest such complex built since Co-op City.
The responsibility of carrying out Bloomberg's affordable housing policies has not been an easy task, nor one without controversy. While the mayor's affordable housing plan was lauded by many advocates as being both innovative and ambitious, it falls far short of the housing need in the city, particularly given the brutality of the housing market. The recession did little to stop the city's rapidly rising rents (even rent stabilized apartments failed to get a no-increase year from the Rent Guidelines Board), at the same time that it made life more difficult for many city residents. And, as the New York Times reported before Mr. Wambua took on the position, the market is subtracting far more affordable housing than the mayor has added or preserved.
Of course, the question of what to do about affordable housing in a city that has becoming increasingly unaffordable for the lower and middle classes is one that has bedevils all would-be mayors; in The Observer's opinion, no mayoral candidates have yet presented a compelling proposal to address the problem.
"Mat has done an exceptional job at the Department of Housing Preservation and Development, where he has kept us on track to deliver 165,000 affordable housing units by the end of the next fiscal year," Mayor Bloomberg said in a statement about Mr. Wambua's departure. "I trust RuthAnne to work as hard as she possibly can to keep this work going and accomplish all we can during the remaining months."
Notably Mr. Wambua, who held other high-level positions in the Bloomberg administration prior to his appointment (at an executive vice president at the HDC and as a senior policy adviser for Dan Doctoroff), initiated the micro-unit project. He also pushed for reforms to the J-51 program and for additional supportive housing units.
"The knowledge that the work we do represents an investment in the future of New Yorkers and their families is why we are so passionate about our mission at HPD," Mr. Wambua said in a statement about his departure. "RuthAnne is a great choice for this job. She has played an integral role in shaping some of the largest and most complex projects undertaken during this Administration."
Ms. Visnauskas started working at HPD in 2006, when she was hired as executive director of large scale planning. Previously, she had worked as director of housing for Clinton Housing Development Company.