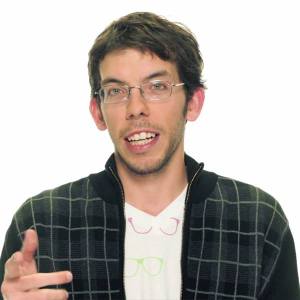 Starting this fall, you'll be able to watch as seven "uber-fans" travel to L.A. to intern together at Stan Lee's Comikaze Expo. No, this is not a Christopher Guest mock-umentary—it's not a sequel to "Best in Show" wherein Eugene Levy and Katharine O'Hara will star as a married Star Trek geek couple. This is a reality show—and that means it's real, you guys—about actual fanboys and fangirls, premiering on Syfy September 24. It's called Fangasm.
According to a press release issued yesterday, the new docu-series will follow "seven very different people whose niche uber-obsessions run the gamut from comic books and collectibles to science fiction and fantasy to cosplay and live action role playing." Not only will they intern together at the famed annual geekfest, but they'll also live together, Real World style, no doubt ensuring plenty of drama and heated arguments, such as: "Who's the best doctor on Doctor Who?!"; "Are house elves ethical or not?"; and "Star Trek TNG vs. original Star Trek."
"These roommates stop at nothing to prove their fan-cred to each other, debating everything from favorite superheroes, Star Wars vs. Star Trek, and even what they would do in the event of a real zombie apocalypse," says the press release. But don't worry! It adds, "And while the claws do come out, this hilarious and loveable group is ultimately bound together by a shared joy of fandom."
And did we mention it's made by the Jersey Shore producers? Expect some serious GTL (Gym, Tan, LARP, that is).
Like all classic reality TV gems, Fangasm will come equipped with a rollicking cast of characters, chosen in the hopes that they will all end up hooking up with one another. There's Dani, who's "played a pirate at a Renaissance Pleasure Faire," Andrew, who's "always dreamed of being the Captain of the Starship Enterprise," Molly, who "is often labeled a "difficult woman" or "kind of crazy," Paul, who "hasn't had a girlfriend in over four years," and Salvatore, who's "loud and vocal about what he loves, and what he loves are superheroes."
And let's not forget Kristen, the "single and sexy comic book fangirl living in New York City" and Mike: "By night he will go to the club with a confident swagger, and by day he will sport spandex." We're betting on a Kristen and Mike hookup, no questions asked.
I'm just hoping this is a reality show that I can successfully convince myself counts as "educational."