It's usually hard enough at the bottom of the totem pole, working for free in the cut-throat world of politics during an election year. But this year's crop of summer interns seem to be having an especially brutal time, enduring slap attacks, hospitalizations and vilification on the trail.
Earlier today, an intern for City Council Speaker Christine Quinn's mayoral campaign was attacked at a press conference by a furious newsletter publisher angry about a local hospital closing.
After slapping State Sen. Brad Holyman, the man, identified as George Capsis, turned on the intern, hitting the young man in the face. Ms. Quinn's campaign did not immediately release the name of the college-age intern, who left the scene in tears.
"I am pleased to say that while shaken up, everyone is doing fine," Ms. Quinn said in a statement. Her spokesman, Michael Morey, added that the young man "was obviously very upset. But other than that, he really would like his privacy."
It's not the first time an intern has been hurt at one of Ms. Quinn's events.
Earlier this summer, an 18-year-old intern for Councilwoman Diana Reyna had to be rushed to the hospital after she fainted during an event in Williamsburg, Brooklyn at the height of the heat wave. Despite personal calls from Ms. Quinn to Police Commissioner Ray Kelly, the girl waited more than half-an-hour for an ambulance, as Ms. Quinn at comforting her, assuring her she'd be okay.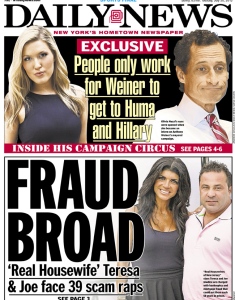 Then there was 22-year-old Elizabeth Westrope, another Quinn intern, who told the New York Times that she was sent out to the Bronx to canvass with little preparation, and on the next day "was surrounded by a group of men who made sexually explicit remarks to her."
"When she sought permission to leave her post," as the Times told it, "she was told by a superior to stay in the neighborhood knocking on doors, then encouraged by a higher-ranking volunteer to develop a 'thick skin.'" The girl reportedly quit soon after.
And, lets not forget Anthony Weiner's former intern, Olivia Nuzzi, who wrote a tell-all story in the Daily News, alleging that many staffers had only joined to get access to Mr. Weiner's wife, Huma Abedin, and accusing the campaign's communications director, Barbara Morgan, of having a short resume. In response, Ms. Morgan went off on a profanity-laced tirade to Talking Points Memo, calling Ms. Nuzzi a "slutbag" and fame hungry "bitch" who "sucked" at her job. She later apologized.
Not all interns are having a bad year, however; Councilwoman Gale Brewer has been touting her intern love as she campaigns for Manhattan borough president.