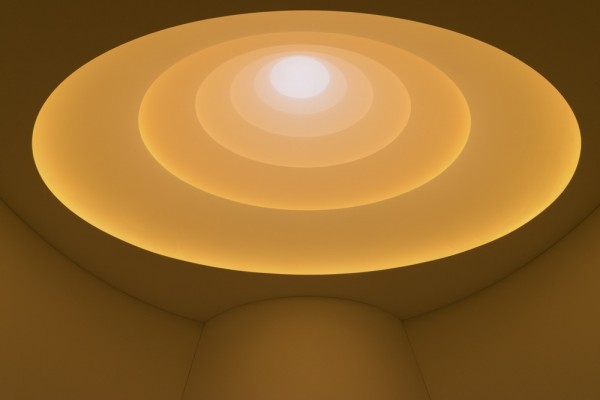 I have always admired the work of American sculptor James Turrell, but I waited in vain for confirmation of that sentiment while viewing his underwhelming current show at the Guggenheim Museum. The exhibition features a large, insipid LED light installation and only a handful of his restrained early works.
Mr. Turrell has transformed the museum's torqued atrium into a five-tiered, wedding-cake-like light sculpture. Some natural light filters in from the top, but colored LEDs on each tier turn the installation alternately green, mustard yellow, purple, various reds and at least three kinds of blue: minty, glowing cerulean and a flat cornflower. Layers of what look like cheesecloth diffuse the light, giving the installation a beautified-aging-movie-star feel.
When did Mr. Turrell become so cheesy? That atrium piece, Aten Reign (2013), "whose title refers to the divine sun disk of ancient Egyptian myth," according to the museum's press release, effectively remakes the rotunda as a 1990s nightclub chill-out room. The effect is also evocative of the color-therapy chambers offered by certain Korean spas. The sculpture's ocular shape echoes the museum's iconic eye-shaped fountain, which burbles in the background as you gaze in horror at the rotunda.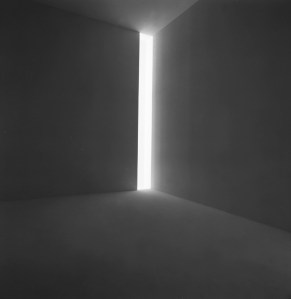 Which is to say, I gazed in horror. Most people seem to love this piece. On the day I went, visitors lined the benches built into the walls and lay flat on a specially constructed round mat on the floor to soak in the ambient colored light. Judging from the crowds, the show is a good place to take kids, and if that's the standard by which you vet your cultural activities, by all means, this is for you.
I vastly prefer the simplicity of Mr. Turrell's austere Meeting (1986), the great, site-specific skyscape at PS1. Not to be a killjoy, but Aten Reign's perceptual effects (hey, my iPhone screen looks green in the red light!) are no more complex than those of Meeting, and the Guggenheim piece has succumbed to the basest impulses of spectacle-tourism-style "relational" art, in which experiencing a physically wowing piece with a crowd is somehow, de facto, worthwhile.
I've wanted for some time to see Mr. Turrell's perceptual cells, works that have been called a "mental orgasm" by the U.K.'s Guardian and "the hottest ticket in L.A." by the Los Angeles Weekly. The general consensus is that these one-person pods explore the issues of light and perception in an interesting way. One, titled Light Reignfall, is on view at the Turrell retrospective currently at LACMA and is apparently always sold out. Which leads me to my next gripe: why did L.A. get the major Turrell retrospective featuring 10 abstract light installations, from 1966 to the present, and New York had to settle for this kid-friendly lobby light show?
Besides the light sculpture, the walls of the Guggenheim are bare. There are four other "perceptual experiences," all fairly slight, tucked into annex gallery spaces off the museum's main track. It is the amount of material and ambition a gallery like Gagosian or Zwirner could put on view without raising a pulse, and it feels slight in a museum. It is not a generous show, but it is not an austere one, either. Rather, it seems half-empty.
I dislike shows that make you stand in line, and the rest of the Guggenheim's Turrell show is one line after another. In Afrum I (White), from 1967, high-intensity projectors beam an illusory cube in the corner. Made of white light, it seems to float like a solid object, but it is entirely insubstantial. Prado White (1967) is light projected onto the floor. It looks like one of those windows you see sometimes when you're on the second floor of a building that's had an extra story tacked onto it.
Ronin (1968), a vertical sliver of light, gives the illusion of being set behind the museum's exhibition wall. It's made of LEDs. Most impressive is Iltar (1976), which looks like a canvas rectangle on the wall but has a foggy, perceptually interesting, tricky color. Displayed on its own in a gallery, it is made with tungsten light, but I really could not say how. Its indeterminacy is intriguing. A number of aquatints from the 1989-90 series First Light are tantamount to studies: they show Mr. Turrell thinking about light. These are not terribly interesting.
Don't get me wrong—I like light as exploration of perceptual experience. Psychology, astrophysics and optics—all fields Mr. Turrell flirts with here—interest me. Growing up, Mr. Turrell would go with his grandmother to Quaker meetings, where people would gather in silent prayer and meditate. He was raised in a quintessentially American tradition in which direct communion with God is considered possible, and his work is part of that tradition. It is also an important part of an artistic tradition that explores the visual experiences you have with your eyes closed. Yet the current take on his legacy—or at least the one on view at the Guggenheim—is Light and Space movement lite—or post-Quaker baroque. Curated by Carmen Giménez and Nat Trotman, the show feels like an opportunistic grab at the chance to "do" the museum's atrium, propped up by a couple of permanent-collection chestnuts.
Mostly the show feels like an advertisement. For the Turrells in L.A., or for his Roden crater, an installation built in an extinct volcano in Flagstaff, Ariz., whose conical shape is echoed by the Guggenheim's atrium. You can visit it, if you have a lot of money and time. Like an ad, what is on view here is only a teaser trailer, and as such, it coyly withholds from scrutiny the bulk of its project while selling you a lot of cheap thrills. (Through Sept. 25, 2013)