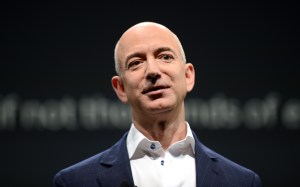 The Washington Post was bought by Amazon's Jeff Bezos for $250 million, the companies announced today. The sale was announced in a tweet by Jim Romenesko. 
The Washington Post confirmed the sale in a lengthy article that went up online soon after Mr. Romensko tweeted the news.
"The Washington Post Co. has agreed to sell its flagship newspaper to Amazon.com founder and chief executive Jeffrey P. Bezos, ending the Graham family's stewardship of one of America's leading news organizations after four generations," an article in the Post explains. "[Mr.] Bezos, whose entrepreneurship has made him one of the world's richest men, will pay $250 million in cash for The Post and affiliated publications to the Washington Post Co., which owns the newspaper and other businesses."
"I don't want to imply that I have a worked-out plan," Mr. Bezos told the Post. "This will be uncharted terrain and it will require experimentation.
"There would be change with or without new ownership," the new owner elaborated in the article in his new paper. "But the key thing I hope people will take away from this is that the values of the Post do not need changing. The duty of the paper is to the readers, not the owners."
Amazon is not involved in the deal. Mr. Bezos is buying the paper independently. The news caught many by surprise. The Post admits that few people knew that the paper was for sale. Company executives said that Donald Graham, the Post Co.'s chief executive, said that he hired investment firm Allen & Co. "to shop the paper" with "extraordinary secrecy." Representatives from the firm "spoke with a half-dozen potential suitors before the Post Co.'s board settled on the Amazon founder, who is described as "a legendary tech innovator who has never operated a newspaper."
"'Every member of my family started out with the same emotion—shock—in even thinking about selling The Post," Mr. Graham told the Post. "But when the idea of a transaction with Jeff Bezos came up, it altered my feelings."
"The Post could have survived under the company's ownership and been profitable for the foreseeable future. But we wanted to do more than survive. I'm not saying this guarantees success but it gives us a much greater chance of success," Mr. Graham added.
Post publisher Katharine Weymouth (who was the subject of a Times Style section profile this weekend) will remain as publisher and chief executive of the Bezos-owned Post, and executive editor Martin Baron will continue to hold his position. The Post story says that layoffs are not expected. The paper's 2,000 employees were informed of the sale at a companywide meeting on Monday afternoon.
The deal does not include the company's D.C. headquarters, which are still for sale, Foreign Policy magazine, Slate.com or TheRoot.com. Also excluded from the sale is Post-owned land in Virginia.