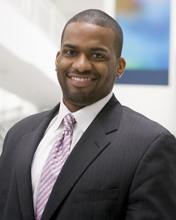 In the Newark mayor's race, former Assistant Attorney General Shavar Jeffries is hammering at South Ward Councilman Ras Baraka, specifically highlighting Baraka's status as a dual public job holder.
Jeffries said he is against elected officials holding more than one taxpayer-funded job and collecting a pension while employed at another government agency.
His bold-facing of the issue represents a direct assault on Baraka, who simultaneously serves as a councilman while working as the principal of Central High School.
At a Society Hill mayoral debate last Saturday, Jeffries was also critical of the city council's decision to close a $40 million budget hole in 2010 by selling some of the city's most historic buildings.
He directly called out his fellow South Ward competitor.
"[Baraka] is very good at saying no, but you have to say yes to something. Because once the MUA [Municipal Utilities Authority] went down, it was replaced with the sale/lease back; one of the most disastrous budgetary decisions any municipality has made probably in the last 30 years. [Residents] will pay $125 million for $40 million over the next 20 years," said Jeffries.
Jeffries noted that every year the city passes its budget late. Moody's Investor Service, the bond credit rating agency, recently downgraded Newark's rating once again because of the city's inability to balance and pass its budget on time.
The only first-tier candidate running for the mayor's seat who is not also serving in city hall right now (Baraka, North Ward Councilman Anibal Ramos and Central Ward Councilman Darrin Sharif all occupy council seats), Jeffries poked at all three of his adversaries, noting that in 2011, the city council gave itself a longevity pay raise.
"Before I look at you and take more money out of your pocket, I'm not going to drive around in a car, that's outrageous," said the mayoral candidate. "I'm not going to increase my salary or raise your taxes 40 percent, that's outrageous. I'm not going to lay off your cops while we have a culture of nepotism in this city, that's outrageous. That's already illegal in most parts of the United States, but that's part of our culture [here in Newark]. Let's move into the 21st century in terms of how we make our budgetary decisions."
He also wants term limits for the city council – three max.
Baraka's communications director, Frank Baraff, responded to the sharpened attack from Jeffries.
"Shavar Jeffries is getting very desperate to be making personal attacks nine months before an election," Baraff said. "At the debate this week, he used the same attack against Ras Baraka that Lonegan and the extremist Republicans are using against Cory Booker… blaming him for everything bad that has happened to Newark for the past 50 years.
"Now Shavar is attacking Ras for something that everybody knows: Ras is both a high school principal and a Councilman. Big whoop dee doo! The real problem here is that Shavar has awakened to the discovery that his money won't buy him love. He is flailing away as Ras continues to pick up support."
Jeffries' communication director Lupe Todd responded in a statement.
"What is happening daily in Newark is no laughing matter," Todd said. "Unlike Mr. Lonegan, Shavar does not speak in half truths and innuendo. The city council did vote to raise taxes more than 40% over the last few years, they have not reduced any of their council perks, and Shavar's opponent has two tax-payer funded jobs in a city where the unemployment rate is almost double that of the nation. The councilman did not vote on the budget two out of the three years he has been in office. Meanwhile, the city's credit rating is steadily declining and the administration has sold Newark's historic landmarks to close a budget that was once again late. Instead of worrying about Shavar's campaign and growing support, his opponent should address the uncontrolled and dangerously high amount of crime that is occurring daily in the South Ward. He can start with the last 48 hours in which there were three murders."