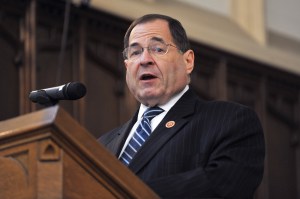 Congressman Jerry Nadler, a long-time ally of comptroller hopeful Scott Stringer, ripped into Mr. Stinger's high-profile rival today after watching the two candidates slug it out on television last night.
"It's not even primarily the fact that he patronized a prostitute," Mr. Nadler told Politicker of ex-Gov. Eliot Spitzer, who is currently ahead in the polls. "It's that he was prosecuting people for the same thing he was doing–that's the hypocrisy."
But Mr. Nadler, speaking at an endorsement event for Brooklyn district attorney candidate Ken Thompson, wasn't done.
"And he did violate the money laundering statutes. When you're the governor and former attorney general, you should know better than that. It shows a lack of regard for the law," he said.
Still, Mr. Nadler, a power broker on the Upper West Side, said he hoped that Mr. Stringer, who took over his seat in the Assembly, would emphasize his own record more in subsequent debates. In particular, he bristled at Mr. Spitzer–who resigned his governorship five years ago in a prostitution scandal–for suggesting that Mr. Stringer had left no mark on the city during his years in government.
"I think that Eliot was a little disingenuous when he talked about, 'What indelible mark have you made, you've been in office 20 years?' and, 'Large parts of the public don't know you," Mr. Nadler argued. "The fact is, large parts of the public aren't going to know anybody who's an assemblyman or borough president, certainly compared to the number of people who know the governor. I mean, who gets more publicity?"
The Spitzer campaign, meanwhile, fired back, pointing to 2008 statements from the U.S. Attorney's office saying Mr. Spitzer was never charged with money laundering. They further dismissed Mr. Nadler's accusations.
"It's not surprising that the establishment is propping up Scott Stringer's flailing campaign," said Spitzer spokeswoman Lis Smith. "He has no record to run on and the establishment doesn't want an independent voice like Eliot's in the comptroller's office."