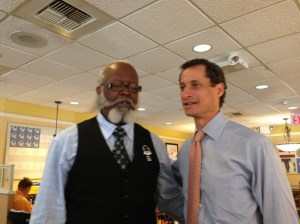 Former Congressman Anthony Weiner doesn't receive many endorsements for his embattled mayoral campaign these days, but he certainly landed one this morning.
Jimmy McMillan, a perennial candidate whose "The Rent Is Too Damn High" anthem and political party has made him a household name, rolled out his support for Mr. Weiner and urged the scandal-scarred candidate to stay in the race.
"I told him don't quit," Mr. McMillan told Politicker in an interview. "We didn't talk about politics, I just told him clearly, 'You do not quit. You can't stand the heat in the kitchen, you shouldn't have got in this race.'"
Mr. McMillan said he and the former congressman "met accidentally in a restaurant in Harlem called IHOP." The brief breakfast that the two pols shared was enough to convince Mr. McMillan that Mr. Weiner was the right candidate to win the Democratic primary. Indeed, he said that if he wasn't running for mayor on his own line, he would have applied to become Mr. Weiner's campaign manager.
"We all are freaky. He just exposed his freaky-ism in the wrong way," Mr. McMillan said of Mr. Weiner's sexually explicit photos. "I think Anthony needs someone like me to tell him, 'Don't be afraid to go get help if you need it.'"
Mr. McMillan, always creative, offered some of the services he could give Mr. Weiner if he were to serve in an advisory role on his campaign.
"If you need another woman, I can help you get another woman if that's what you need," he explained. "He created a character called 'Carlos Danger.' Ooh, that is a marketing bonanza … He can put a hat on a dildo and call himself 'Carlos Danger.' Everyone will get it for someone just as a gift. He can make a billion dollars out of that in one month."
Mr. Weiner's spokeswoman did not immediately respond to a request for comment on the new support.