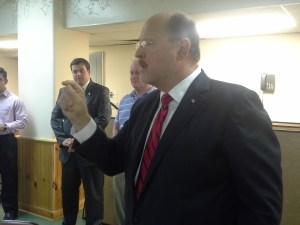 Taking his mayoral campaign to a right-leaning church in Brooklyn, Republican Joe Lhota yesterday pitched himself to Brooklyn seniors as the candidate who would keep the city's streets safe.
Along with one of his prominent backers, Republican State Senator Marty Golden, Mr. Lhota painted his candidacy as a bulwark against the high crime days of the 1980's and 1990's. In particular, he denounced a recent federal ruling that found the NYPD's use of stop-and-frisk to be a violation of constitutional rights.
"The biggest quality of life issue is crime," Mr. Lhota explained to the  group gathered in the Bay Ridge basement as an R train periodically rumbled below. "What's happened in the court level is really unfortunate. We need to continue to be able to use stop, question and frisk–it is one of the many tools that the NYPD has used over the last 20 years to keep crime down."
A former deputy mayor in the Giuliani administration, Mr. Lhota spoke to the seniors gathering just before they played bingo. The plate of cookies passed around by a friendly aide contrasted with the dire language of the Lhota team, who were stumping in a pocket of southwest Brooklyn that still holds a relatively high number of registered Republicans.
Based on interviews and the questions thrown at Mr. Lhota, it appeared he had selected friendly territory.
"I was tending toward Catsimatidis just because he's not a politician. I am fed up with politicians," said Joan Kennedy, a retired homemaker, while comparing Mr. Lhota to GOP rival John Catsimatidis. "Now, I think it would be a wasted vote. I don't think the man would have half a chance. Most people don't even know how to pronounce his name."
The audience wasn't focused purely on safety talk, though; several seniors were also concerned about the struggles of the school system. One complained that mediocre, ideologically progressive teachers were telling some students there weren't right or wrong answers to multiplication questions. Mr. Lhota drew cheers when he called for more multiplication drills in the classrooms.
Another elderly woman demanded to know how he would handle the teachers' union. "Will you be able to get rid of all those deadbeats that are collecting our tax dollars? That's the union, that's the union!" she yelled.
Mr. Lhota diplomatically maintained the union had been working without a contract for several years and deserved a new contract, though he would not commit to any retroactive raises. Running a low-key, surprisingly understated race, Mr. Lhota did not take any shots at the union, a traditional GOP bugaboo, or his potential Democratic rivals.
After he raced around the room to shake hands, Mr. Lhota paused near two large plates of cookies and chatted with Politicker about the state of the Republican primary. Mr. Lhota's lead over billionaire John Catsimatidis has shrunk over the past few months but Mr. Lhota, still very confident that he will prevail, confirmed Mr. Giuliani would be joining him more frequently on the campaign trail over the next few weeks.
"We will be campaigning together, how you define that as a big push is up to you," Mr. Lhota said. "Not having press conferences doesn't mean he hasn't been out there. His appearances will increase, clearly before the primary."