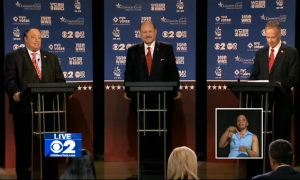 Earlier this evening, in a live televised debate on CBS, the three Republican mayoral candidates discussed an unexpected topic: New York City's condom policy.
Specifically, they were asked if–like Democrat Christine Quinn–they would back improvements to the city's free "NYC"-brand condom program to promote more widespread use. It was clear, however, that businessman John Catsimatidis did not prepare talking points for this particular question.
"Well, uh, I, I think, um, uh," he stammered, before pivoting to another Quinn condom position he had a stronger opinion about:"I disagree with Christine Quinn as far as distributing condoms to underage kids without their parents' permission … I think it's wrong," he said.
Finally, pressed, Mr. Catsimatidis declared, "I think we should buy the strongest condoms that we can get." (The crowd laughed.)
When it came his turn to answer the question, Doe Fund Found George McDonald, who is trailing in the polls, decided to focus on where the free condoms were made rather than their durability.
"Whatever condoms we use, I want them made in the City of New York," he said, "I want to use the purchasing power in the City of New York—all kinds of jobs."
Joe Lhota, a former deputy mayor in Rudy Giuliani's administration, concurred with Mr. McDonald about the need to produce the condoms in the five boroughs, but also used the chance to take a swipe at Ms. Quinn. "Quite honestly," said Mr. Lhota, "it's the worst type of pandering I've possibly seen. I agree with George, if we can, let's make them here–let's put people to work in New York."
But it seemed Mr. McDonald wanted to get the last word in on the topic–sort of.
Seizing upon Mr. Lhota's use of the word "pandering," Mr. McDonald rambled about yet another Democrat he feels panders more than Ms. Quinn.
"The worst kind of pandering you see on your televisions at home: 'Tax the rich.' That's dividing the City of New York," he said. "It's pandering for something that the candidate–Bill de Blasio, who's suggesting it–knows he cannot do. But yet, 'It's the great divide in our city.' We can't do that. And we can't pander to the taxpayers."