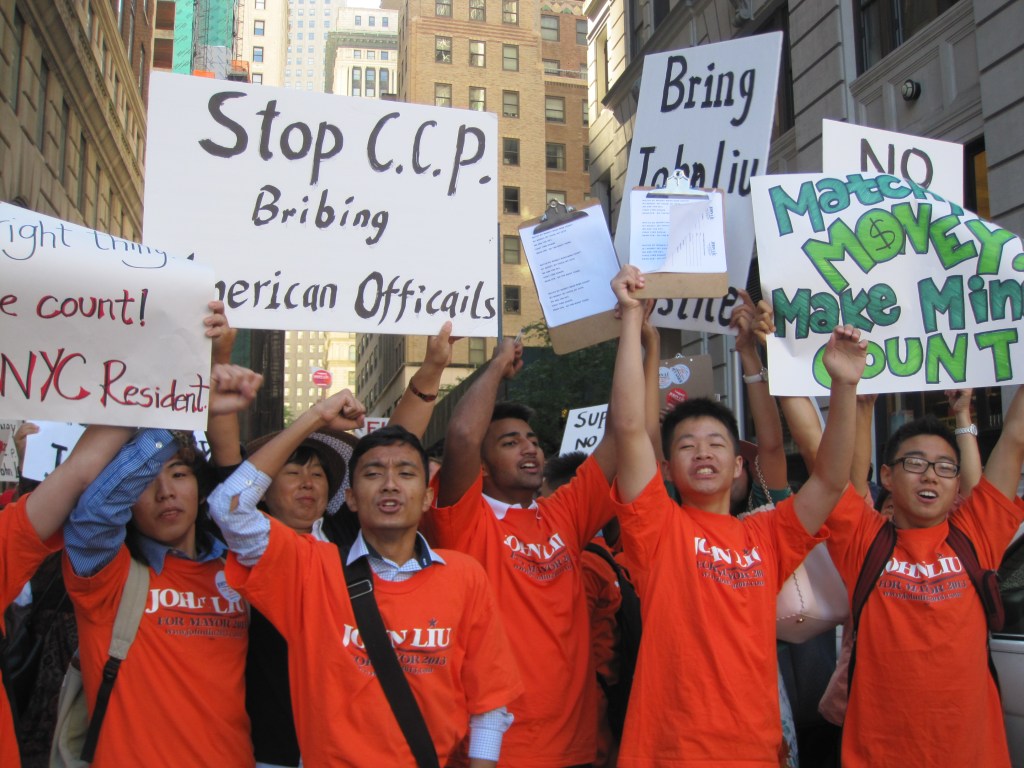 The city's Campaign Finance Board has ruled to deny more than $3.5 million in public matching funds to City Comptroller John Liu, putting his election prospects into serious turmoil.
Citing evidence of "serious and pervasive" potential violations across the campaign's fund-raising, the board voted unanimously this morning to deny the funds at its headquarters in Lower Manhattan, where dozens of supporters gathered earlier this morning to support Mr. Liu and urge the agency to give his mayoral campaign the cash.
In a statement explaining the decision read by chair Joseph Parkes, the Board pointed to evidence of "substantial non-compliance" with election laws, including the use of straw donors, as well as allegations that appear to extend beyond the scope of the federal investigation that resulted in guilty verdicts against one of Mr. Liu's fund-raisers and his former campaign treasurer. Mr. Liu himself has not been accused of any wrongdoing.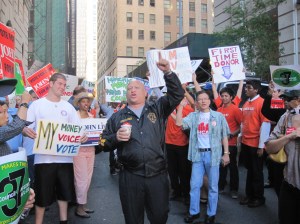 Before the vote, Mr. Liu's election lawyer, Martin Connor, accused the Board of trying to disenfranchise Mr. Liu's base of immigrant voters by over-reacting to what he framed as a series of minor, isolated violations.
"It's no secret that there were problems in the Liu campaign in 2011," he said. "Sometimes where there's smoke, there's smoke and no fire."
"What the staff is proposing is the death penalty for a minor transgression," he further argued.
Mr. Liu's embattled bid to become the city's first Asian-American mayor has been plagued ever since the investigation into his fund-raising became public. His campaign has been polling in the single digits, despite a break-neck schedule and enthusiastic support from many ethnic communities as well as a handful of labor union.
Mr. Connor told reporters that, while the campaign can appeal the decision to the Board and then the State Supreme Court, the timetable will make it nearly impossible to get the money in time for the September 10 primary–severely undermining the Liu campaign.
"Don't look for a lot of network TV ads," he quipped.
But the decision stung much deeper among loyal Liu supporters, who chanted, "Kangaroo court!" when the meeting was adjourned.
"This is not right!" said one of those supporters, Jennifer Lin, who lives in New jersey, said that she had contributed money to Mr. Liu's campaign and felt it was deeply unfair that fellow contributors' money wouldn't be matched.
"He is like us," she said of Mr. Liu. "He represents the American Dream."
Patrick Huang, 65, one of the dozens of supporters who gathered outside the headquarters before the vote, chanting, "Mayor Liu! We want you!" and waving colorful signs, was equally distressed.
"I came here to support John Liu in getting the public funding because it will be too harsh a punishment for two of his aides' violations," explained Mr. Huang, who said a decision against Mr. Liu would be especially disappointing for minority voters.
"He's a trailblazer and a role model for the Asian Americans," he explained, noting that it would be "very difficult" for Mr. Liu to mount a competitive campaign without the money.
Mr. Liu has scheduled a 4 p.m. press conference today to address the issue.
Updated at 12:40 p.m.