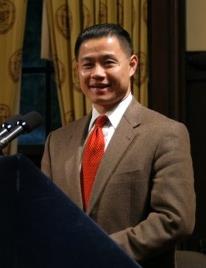 City Comptroller John Liu's campaign is still holding out hope that it will qualify for the more than $3.5 million in public matching funds it needs to have any chance at being competitive in the primary.
As the Wall Street Journal reported today, the New York City Campaign Finance Board recently sent a letter to Mr. Liu's campaign informing them that its staff had recommended that his request be denied–though it remains unclear exactly why. The Board is set to make its formal decision Monday.
"We are disappointed with the reported recommendation issued by the CFB's staff, but we hope the Board does the right thing — not only for this campaign, but for the thousands of New Yorkers who deserve to have their political contributions matched, as they expected," Bill Lynch, Mr. Liu's campaign manager, said in a statement.
"We have all of our documentation in place supporting our matching funds claims and are confident that we are fully-qualified to receive the maximum amount of public matching funds, allowed under the law, of $3,534,300," added his campaign lawyer, Martin Connor.
About a hundred Liu supporters further rallied outside of CFB's headquarters this afternoon.
While Mr. Liu remains far behind in the polls and was badly scarred by a federal investigation into his fund-raising that led to the arrests of a fund-raiser and a former campaign treasurer, he has continued campaigning at a break-neck speed.
Mr. Liu's fund-raising relied especially on the kind of small-dollar contributions that qualified for him for the maximum available matching fund payment–and the loss of those millions would be a potentially crippling blow.
The CFB did not immediately respond to a request for comment, but the Journal noted that the board can deny funds if it determines a campaign has violated the program's rules or committed fraud.
Update (5:53 p.m):
From a BOE spokesman: "The Board will vote on the first public funds payments to qualifying candidates on Monday. We cannot comment on payment determinations until the Board acts."