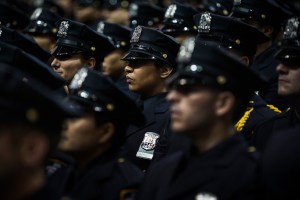 In a major blow to Mayor Michael Bloomberg's much-touted policing agenda, a judge has declared the NYPD's controversial stop-and-frisk policy in violation of constitutional rights.
"[T]he City adopted a policy of indirect racial profiling by targeting racially defined groups for stops based on local crime suspect data," ruled the federal judge, Shira Scheindlin. "This has resulted in the disproportionate and discriminatory stopping of blacks and Hispanics in violation of the Equal Protection Clause."
In addition to running up against the Fourteen Amendment's Equal Protection Clause, Ms. Scheindlin declared that the widespread stops violated the Fourth Amendment, which bars unreasonable government searches and seizures.
And she accused the city's "highest officials" or turning "a blind eye" to evidence that officers were  conducting stops "in a racially discriminatory manner."
"In their zeal to defend a policy that they believe to be effective, they have willfully ignored overwhelming proof that the policy of targeting 'the right people' is racially discriminatory and therefore violates the United States Constitution," she wrote in the 195-page ruling.
"Even if the City had not been deliberately indifferent, the NYPD's unconstitutional practices were sufficiently widespread as to have the force of law." she added.
In a separate 39-page ruling, Ms. Scheindlin issued a series of remedies to end widespread abuses, but, she cautioned, "To be very clear: I am not ordering an end to the practice of stop and frisk. The purpose of the remedies addressed in this Opinion is to ensure that the practice is carried out in a manner that protects the rights and liberties of all New Yorkers, while still providing much needed police protection."
As a result, the city will be required to implement a trial program of body-worn cameras on police officers, a "community-based joint remedial process to be conducted by a court-appointed facilitator," and the appointment of Pete Zimroth, the former Chief Assistant District Attorney of New York County, as an independent monitor to ensure that the NYPD's stop and frisk policy remains within the confines of the Constitution going forward.
Mayor Bloomberg has scheduled a 1 p.m. press conference to respond to the ruling. Based on his past defense of stop and frisk, he seems likely to be outraged.
View the two-part ruling below:
[scribd id=159713036 key=key-1jr0vdqoc77pnpi47jj5 mode=scroll]
[scribd id=159714920 key=key-3vkj25fy8nf0ec753s5 mode=scroll]
Additional reporting by Jill Colvin.