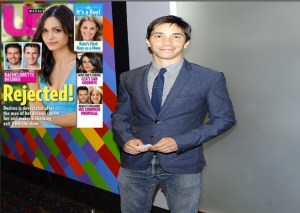 Tuesday night on the rooftop of Refinery, Cinema Society, co-sponsoring the premiere of Lovelace with MCM and Grey Goose, played host to the movie's stars and their A-list friends. Hopefully this won't come off as offensive, but feminist scholar and anti-pornography activist Catharine MacKinnon, sitting Indian-style with her shoes off in a cut-out gothic gown, exuded more sex appeal than the rest of the partygoers combined. That's  not knocking the revelers, who included James Marsden, Zosia Mamet, Carrie Preston (who graciously received congrats on her Emmy nod for The Good Wife) and a rebounded Zachary Quinto.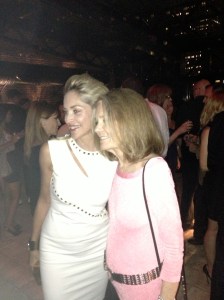 Lovelace cast members Amanda Seyfried, Peter Sarsgaard, Brian Gattas and Chris Noth found themselves in a tight squeeze in the VIP section, trying to make room for other A-listers like Justin Long, Debbie Bancroft, Sharon Stone, Gloria Steinem, Lovelace writer Andy Bellin, Nannette Lepore and a spirited Zac Posen, who told The Observer that he used to be Lena Dunham's babysitter. (Must be the Saint Ann's connection.)

While awkwardly trying not to be underfoot in the crush of servers, we found ourselves in the middle of a conversation with Mr. Long. "Did you see the movie?" he asked.
Of course we had, we told him. Why else would be there that evening?
"I'm just asking because I accidentally spoiled the ending of The Bachelorette recently, and I felt really bad," he admitted.
"That must have been embarrassing," we said. "Having to tell people how invested you are in a reality contest dating show."
"I love that show," Mr. Long said. "Did you even see the last episode?"
We had, in fact, caught the end of it at the gym. There seemed to be an inordinate amount of crying.
We promised we wouldn't mind the spoiler … what had happened on Monday's finale?
Mr. Long looked miffed. "No, I'm not falling for that again. I'm not getting in trouble for ruining that show for you."
"But we really don't plan on ever watching it," we begged. "Come on, tell us how it made you feel … emotionally."
Unfortunately, Mr. Long denied our request to discuss Brooks and Desiree's drama. Which, of course, we then went home and Googled.
Somehow, the finale of The Bachelorette sounded even more inane than two people arguing about spoilers from it, if that's possible.