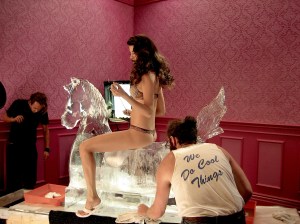 As the city was beaten down by the usual mix of oppressive heat and humidity this summer, the Transom ducked into the one place in NYC we knew would be cool: the ice sculpture shop of Joe O'Donoghue, iceman to the stars.
We had first met Mr. O'Donoghue at a brunch to celebrate the 20th anniversary of Daniel. As we piled our plate with oysters and crab legs, we discovered a bar made of ice, covered in a five-tiered array of seafood-bearing ice platters that resembled crystal.
A ponytailed man told us that he was the ice sculptor. As he started to list his clients, Martha Stewart wandered by and greeted him effusively. He had been on her show a few times.
As we entered Mr. O'Donoghue's studio in Dumbo last month, we looked enviously at two large blocks of ice, which seemed to be melting. It turned out they were. Before blocks of ice can be carved into sculptures, they need to be "tempered." Otherwise they crack. It's science.
"When it gets to be this hot, the laws of physics go to another level. It gets like a microwave," Mr. O'Donoghue said. "Everything goes twice as fast and everything we do is down to the wire."
The hot weather speeds everything up except for the freezing process. It usually takes Mr. O'Donoghue four to five days to make a block of ice. When temperatures go north of 90, it takes closer to a week.
The origin of Ice Fantasies, as his business was originally called, is the stuff of legend. Mr. O'Donoghue, who first learned how to carve as a
line cook at the Huntington (L.I.) Hilton, started the category of "Ice Sculpting" in the Yellow Pages, thereby guaranteeing himself prominent, and free, ad space.
His first phone call, he says, was from Sprint. The phone company was giving away 1-800 numbers, and Mr. O'Donoghue lucked into 1-800-Nice-Ice (unbeknownst to Mr. O'Donoghue, the ice company that had had a monopoly on the coveted digits had quietly gone out of business less than 24 hours prior). Then he talked his way into the MTV Hamptons Beach House, which was the place to be in 1993. It wasn't long before he was carving for the MTV Music Awards, appearing on Martha Stewart's Christmas specials and doing the James Beard Awards, where he met "guys like Daniel."
"I proved that ice sculptures didn't have to be this cheesy thing," he said.
His most beloved carving to date was a rocking horse he made for a European Victoria's Secret shoot, partly for the challenge of making an ice steed that a model in a G-string could ride. He shaped the seat to offer a little butt-boost—not that this cowgirl needed it.
"No matter what she did, her ass was perfect," he said. "She was this amazing Italian chick."
After one last tour, it was time to leave the cool confines of the ice studio. We lingered in the walk-in cooler.
"Do you want to stay there all day?" Mr. O'Donoghue asked.